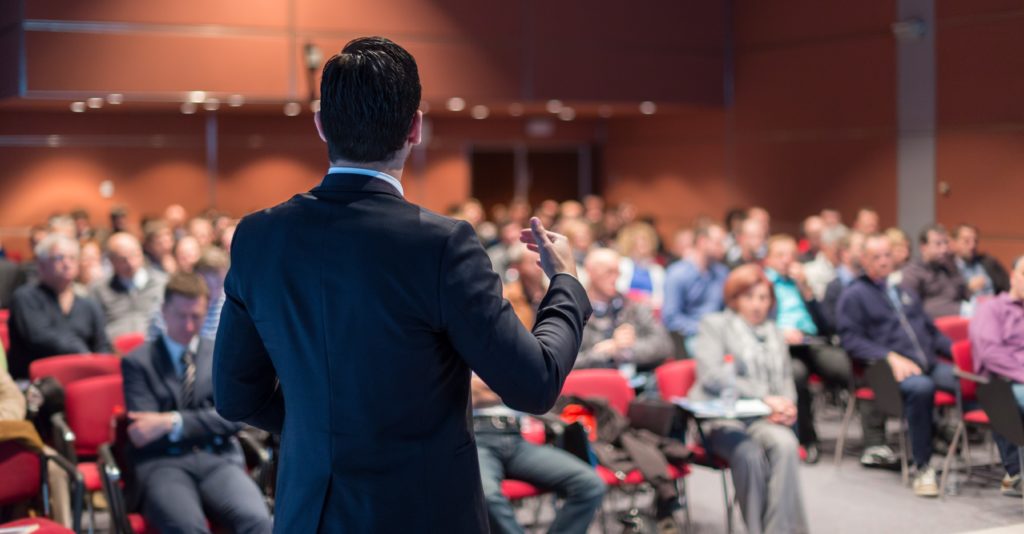 ABA Bank Marketing Conference 2021
The American Bankers Association will be hosting their annual ABA Bank Marketing Conference for 2021 in Austin, Texas. The conference will take place September 26th through the 28th at the JW Marriott Austin. Registration is now open for 2021, at $1,295 for ABA Members and $2,195 for non-members. There's also virtual only registration available in the range of $395 to $795. The ABA Bank Marketing Conference is the only marketing event exclusively for banks and is a favorite of many CMOs.
The Financial Brand Forum 2021
The Financial Brand Forum 2020 was postponed with no further details yet, but they typically plan to host their annual conference in late April. The previous event was slated to take place in Las Vegas at the Aria Hotel Resort. Previous registration started at $1,250 and typically goes up to $2,695. The event boasts over 50 different workshops and claims to be the largest event for marketing professionals in banking. Stay tuned for future updates on the next Financial Brand event.
Digital Marketing for Financial Services Summit
The 7th annual summit hosted by the Strategy Institute will take place virtually on November 17th and 18th 2020. The event has a larger attendance from financial marketers across North America with workshops covering banking, insurance, wealth management, investment, and more. Registration for the event starts at $399, and goes up to $1,299 for the Vendors & Suppliers Pass.
Customer Experience for Financial Services '21
Also hosted by the Strategy Institute, the 2021 conference will take place virtually on April 20th and 21st. Attendees will learn a host of strategies including improving customer experience, building your client base, and differentiating your financial brand. Speakers at the event include a mix of bank professionals, financial service providers, and CX experts.
MAC Conference 2021
The Marketing Association of Credit Unions will host their 2021 conference in Denver, Colorado from May 24th through May 27th at the Westin Denver Downtown. With MAC 2020 being cancelled, attendees who registered for that event can hold on to their registration and apply it toward MAC 2021. If you're a credit union marketer, this annual event is regarded as one of the top marketing conferences in the country for CUs. MAC members can register for $1,199, non-members for $1,599.
#BankSocial & LEAD FWD Summit
@BankSocial is teaming up with the ICBA for the LEAD FWD Summit. It was held virtually in 2020, so while 2021 dates and pricing have yet to be announced, you can expect mid-late September to be the target. Pricing historically has started at $595 and goes up to $795.
2021 IBA Marketing Webinar Series
The Iowa Bankers Association hosts their virtual edition of their annual marketing conference in the form of webinars, which will take place on March 9th, March 31st, April 13th, and April 27th. The ticket price for each session is $100 with 6-months of access to the recording. If you purchase all four of the webinars in the series, they are available for a discounted rate of $325.
2021 OBL Bank Marketing Conference
The Ohio Bankers League hosted their annual marketing conference virtually in 2020. While their 2021 plans are yet to be announced, it can be expected that the virtual event will take place again in mid-August. Registration has previously costed $495 for members and $990 for non-members.
NJ Bankers Annual Marketing Conference
The New Jersey Bankers Association 117th Annual Marketing Conference is currently set to take place May 19th through 23rd 2021 at The Breakers in Palm Beach, Florida.
NEFMA Fall Conference
The New England Financial Marketing Association hosted their 2020 fall conference on Oct 22 – 23 as a virtual event and has provided on-demand content. NEFMA typically hosts three conferences per year that include expert speakers and focus on membership networking opportunities. NEFMA conferences are typically eligible for CFMP credits as well.
NEFMA Spring Conference
We can expect The New England Financial Marketing Association to host their 2021 spring conference virtually in late March. Dates and registration details are not yet available.
Virginia Bankers Association VBAConnect Conference
The VBAConnect Conference is for Bank Human Resources, Marketing, Retail Banking & Training Professionals. Historically, it has taken place in June at The Breakers in Palm Beach, Florida. 2021 event information is to be determined.
Tennessee Bankers Retail Sales and Bank Marketing Conference
TBA has announced that they will be following guidance issued by the CDC, Tennessee Department of Health, and any applicable federal or regulatory requirements in place at the time of their programs. While their annual conference is not ruled out for in-person attendance with the proper precautions in June 2021, they will be offering their events virtually as well.
CBAI Community Bank Marketing Conference
The Community Bankers Association of Illinois historically has hosted their annual conference in April in Springfield, Illinois. In the past, rates have started at $265 for members and $465 for prospective members. 2021 plans are to be determined.
Illinois Bankers "The ONE" Conference
The Illinois Bankers Association hosts The ONE in March, with 2020's event taking place at the Embassy Suites in East Peoria, Illinois. This conference covers bank marketing along with customer relations, financial management, HR, leadership, technology, and operations tracks. Last year, day passes started at $200 for members and $350 for non-members, or you could attend both days for $325 per member and $475 per non-member. 2021 event details have not yet been announced.
Indiana Bankers Mega Reimagined Virtual Conference
The Indiana Bankers Association will host their annual Mega Conference virtually November 16th through November 18th, 2020. Although not yet announced, their Spring event for March 2021 is likely to follow a similar format.
Arkansas Bankers Association Mega Conference
This annual event includes tracks for marketing, trust, technology, security, leadership, executive leadership, and agricultural lending. The 2021 event is taking place virtually on February 10th and 11th, 2021. One Day Registration is $390 for members and $780 for non-members, while Two Day Registration is $755 for members and $1,510 for non-members. Member discounts are available for blocks of five if all individuals register at the same time.
Did we miss any upcoming bank marketing events? Let us know and we'll continue to build out this resource!
For more bank networking and learning opportunities consider joining a bank or credit union association.
{Post updated as of July 21, 2021}