It's International Women's Day – a time to look at the progress that women have made, and the important roles they play in and out of the home. This year, there is even more to celebrate because we have our first woman vice president (whatever your political affiliation, just appreciate the history that she made).
However, when it comes to the banking industry, women are disproportionately represented. According to Investopedia, finance has not kept pace with many other professions such as medicine, law, and academia when it comes to the number of women professionals. In 2020, women made up only 13.9% of U.S fund managers. Women account for about 40% of financial industry roles, but when it comes to C-suite level positions, only about 20% of those roles are held by women.
Nevertheless, women bankers remain crucial to the success of financial institutions all over the world. As a financial marketing company, this is evident to us by the number of women in banking and other financial institutions that we work with or come in contact with on a daily basis. Although we still have a long way to go, women are taking the financial industry by storm.
Women Leaders at Community Bank
The Muncy Bank and Trust Company is a local bank with 8 locations throughout Lycoming County, Pennsylvania. Although it's a small community bank, you can see a number of women in leadership positions at Muncy Bank.
Tammy Gunsallus began her banking career in 1982 and gained a wealth of experience in many aspects of banking, including business development, loan administration, investment services, and commercial services. In 2016 she became a Senior Vice President and Chief Retail Officer at Muncy Bank.
Tammy is dedicated to advancing the banking industry. She previously served as a member of the board of the Pennsylvania Bankers Public Affairs Committee and as a Women in Banking Advisory Committee member. She was nominated for the 2020 PA Bankers "Women in Banking Recognition of Excellence" award.
In addition to a respected presence in the banking industry, Tammy is also an active member of her local community. She previously served as President of the Jersey Shore YMCA and was also Chairman of the Jersey Shore Chamber of Commerce. She currently serves as the Treasurer of the Jersey Shore Library Endowment and Secretary of the Love Center Food Pantry in Jersey Shore.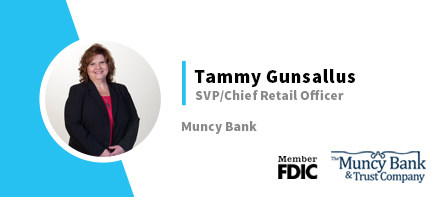 Kathlene Bower is also a Senior Vice President at Muncy Bank, as well as the Chief Business Development Officer. She is actively involved with assisting her commercial banking customers with their business loans. Her goal is to help customers determine and fulfill all their financial needs.
Not long after joining Muncy Bank in 1990, Kate became a fundamental part of the business development team and worked her way up to her current role. "The bank's 9-member executive management team is made up of 6 women, as a 31-year Muncy Bank veteran I'm happy the rest of the industry is becoming more inclusive as well."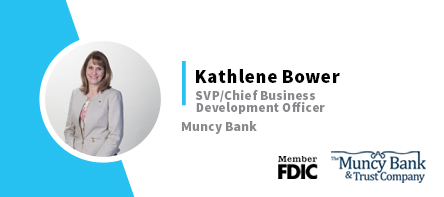 Southwest of Pennsylvania, in West Virginia, is Jefferson Security Bank (JSB). JSB has four locations in Jefferson County, WV, and one location in Maryland. This is another small bank making big progress.
Cynthia Kitner is JSB's President and Chief Executive Officer. (CEO) This is a true accomplishment. Female CEOs remain few and far between, found in just 37 Fortune 500 companies.
"I am honored to serve as Jefferson Security Bank's next President and CEO," she said. "I look forward to continuing to serve our diverse local communities in my new position," Cynthia said upon her 2016 appointment.
Prior to becoming President and CEO, Cynthia's leadership path at JSB included Senior Vice President and CFO, then Executive Vice President and Chief Financial Officer. She has been with JSB for 15 years and has served as a mentor and leader for many departments. Her other roles included Risk Management Officer, Compliance Officer, Customer Information Security Program Coordinator, Community Reinvestment Act Officer, and Corporate Secretary.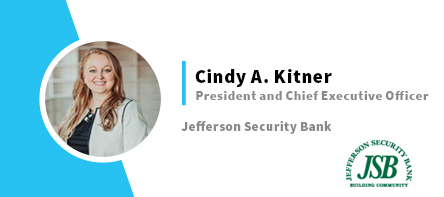 Cynthia is not the only female leader at JSB. Jenna Kesecker was named Executive Vice President and Chief Financial Officer (CFO) of JSB in 2016. "I am honored to take on this leadership position and to continue contributing to the bank's dedication and commitment to positively impacting our community." Said Jenna in a press release.
Jenna began her career working as a part-time teller while she was in college. Upon graduation, she obtained a full-time position in the finance department until she was named Vice President and Risk Manager. That same year, she earned her Certified Public Accountant designation.
Women in Financial Planning and Advising
Brittni Devereaux, a financial planner at Northwestern Mutual (NM), always had a passion for financial planning. Before she joined NM, Brittni worked at a consulting firm for 10 years. Here she was responsible for assisting B2B clients with human resources and employer retirement plans. Though she enjoyed helping people, Brittni felt that she could do more, and left the job to find something more rewarding. "People need [Financial Planning] more than what an employer can do."
Unbeknownst to Brittni, she was embarking on a career change during the middle of a pandemic, which made finding this new role more challenging. "It's been a long journey, but I need to do this job because women need me!"
Ms. Devereaux believes that people should be more involved in their finances, especially women, who let their husbands handle the finances. She makes an effort to seek out female clients and help empower them to understand their money and contribute to the households' financial decision-making.
Female financial advisors have different experiences than men that they can bring to the table to help make a successful financial institution. As the only female financial planner at her office, she stressed the need for more women in this role. While she would like to see more women in the financial sector, she stressed the importance of male advisors, too. The men have a lot to share – their experiences – when it comes to advising clients, and also helping young advisors grow. She credits the male advisors that she works with that helped her get to where she is today. By serving as mentors and educating women about finances, these men are helping women become future financial experts.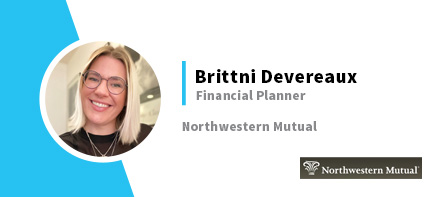 Making Progress
FairyGodBoss suggests having more women in financial leadership positions isn't just good for women, but the whole company. She suggests that having a diverse board allows companies to make more forward-thinking positions and attract more investors. Studies suggest that women are twice as likely to invest in companies that were founded by women and three times as likely to fund firms with female CEOs.
As financial marketers, we at BankBound experience first hand the benefit of women in the banking industry. We work closely with many female marketing leaders who are dedicated to the success of their financial institutions and spearheading new marketing initiatives. Our own organization relies heavily on female expertise. Women make up 50% of our financial marketing team. A female Vice President of Operations is on the executive team of our parent company PrintMail Solutions. Today we salute all the women making strides in the financial industry and their supporters.