Now more than ever, financial institutions are looking for creative and effective ways to increase customer engagement. One rising method—gamification—offers adaptable, enjoyable, and rewarding options to do just that. Gamification can not only boost bank customer engagement, it can also create positive outcomes for customers, whether bolstering money management skills or encouraging greater utilization of services.
By creating engaging challenges for customers and giving rewards for their achievements—all the while tracking their progress—customers can be effectively incentivized to make smarter financial choices. But how does gamification work, and what can your FI do to incorporate its features into your customers' experience?
In this post we'll discuss the basic principles of gamification, from its aims and purpose to the results you can expect with a well-designed experience—and how your FI can get started!
What is Gamification in Banking?
Gamification is the process of incorporating games—creative and immersive experiences—into nongame settings. Within the realm of banking, gamification techniques can convert routine banking processes into tasks with clear milestones and rewards, encompass interactive quizzes for educational purposes, provide a structured framework to facilitate goal-oriented pursuits, or simply tap into their desire for amusement, simplicity, social engagement, recognition, or compensation.
By incorporating game mechanics and experience design, including challenges, rewards, levels, and leaderboards, FIs can provide a sense of achievement and progression for their customers, keep them engaged, and educate them on financial best practices. And ultimately, gamification can work to motivate your customers to continue their financial relationship with your bank or credit union. Let's take a closer look at what gamification can do.
Make it fun.
If you're looking for ideas for how to engage customers in banking, gamification could be the answer. Gamification can transform tedious or unexciting banking tasks into enjoyable and entertaining activities. By applying elements such as storytelling, visual design, and interactive features, gamification can make financial processes more enjoyable and interesting.
Change behavior.
Another key effect of gamification in banking is to positively influence and change customer behavior. By incorporating game mechanics and incentives, banks can motivate customers to adopt desirable financial habits, such as saving, budgeting, and responsible spending.
Introduce complex concepts.
Gamification can be an effective tool for introducing and simplifying complex financial concepts to customers. By breaking down intricate ideas into interactive and easy-to-understand components, banks can help customers better comprehend and grasp complex concepts.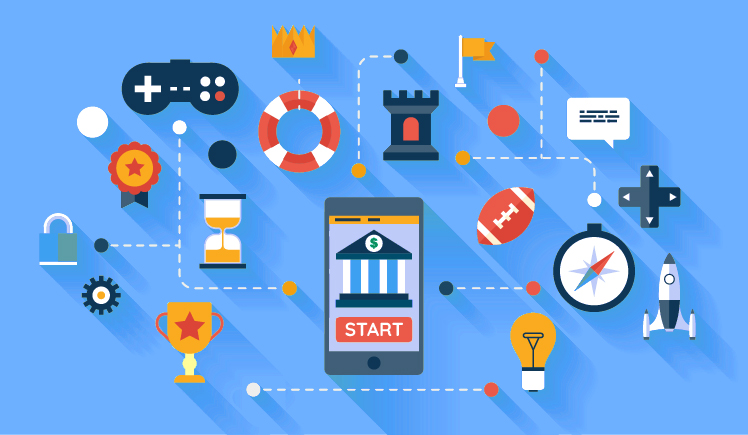 How Can Banks Use Gamification?
There are endless ways that your FI can create a more interactive and engaging experience for your customers, and some elements of your current practices may even already utilize some key gamification concepts. Possibilities include:
Educational quizzes
Financial simulations
Rewards for deposits or beneficial banking activities
Points for shopping
Interactive tutorials
Social media integration
Animations when completing banking tasks or making positive financial choices
Any activity that captivates attention, creates a fun user experience, and encourages customers to develop or maintain a relationship with your FI—online or in person—can be considered gamification. The above ideas are only a starting point.
Examples of Gamification in the Banking Industry
So what are some ways that banks have used gamification successfully? Here are just a few examples.
Encourage Savings
PNC Bank looked for a way to help depositors set and reach their savings goals. They created a Virtual Wallet, a hybrid of checking and savings accounts. And to activate the money-saving mindset, the bank introduced a nifty gamified feature called Punch the Pig. When someone is banking online, a piggy bank appears on the screen, allowing customers to transfer a certain sum from their checking to their savings account.
Improve Customer Experience
When Extraco Bank decided to do away with their free checking accounts, they introduced an online gamified application to ease their customers' pain—and hit to their wallet. Applying game mechanics, the bank explained the benefits of converting customers' checking accounts to bonus banking. Walking through a series of questions about their spending habits, customers learned different ways of reducing their fees with online bill pay or direct deposits.
Benefits of Gamification in Banking Apps
When developing or selecting a financial and account management app for your FI, incorporating gamified features can provide great benefits for both your bank and your customers.
Increased Customer Engagement
Making banking more engaging is key to making motivated customers—customers that are more likely to actively participate in financial activities, pursue financial goals, and, importantly, stay connected with their accounts. Also, by infusing common banking tasks with fun, whether offering rewards for completing a request, customers are more likely to complete those tasks.
Improved Financial Literacy and Money Management Skills
Incorporating educational quizzes, interactive tutorials, or simulations can help customers gain a deeper understanding of investment strategies, risk management, or financial planning. Further—by providing rewards, challenges, and progress tracking, customers can be encouraged to modify their financial behavior and make smarter financial choices. Gamification can serve as a catalyst for behavior change by providing immediate feedback, encouragement, and reinforcement for desired actions.
Increased Usage of Banking Services
Banking can be intimidating, with complex jargon, abstract products, and complicated rules, fees, and requirements. By presenting information in an engaging manner, it can add clarity and help financial management feel more accessible to the customer. The more confident and involved a customer feels, the more frequently they will use services.
Challenges of Gamification in Banking
There are clearly a lot of benefits of gamifying your customers' banking experience. But that doesn't mean that the process is easy or simple. In fact, the implementation of successful gamification can come with a host of challenges. To facilitate the best, long-term results, you'll need to create thoughtful, well-planned, and ever-evolving devices.
Achieving the Long Game
Gamification is not a one-time event, but rather an ongoing process that requires continuous updates and improvements to keep users engaged. Banks need to ensure that their gamification programs are dynamic and evolve over time to meet the changing needs and preferences of their customers, as well as current regulatory standards and even aesthetics.  Creating lasting, evolving user experiences takes time and insight.
Catering to Diverse Audiences
Digital banking solutions are used by a wide range of demographics, and individuals with differing goals, interests, and financial experience levels. Banks need to ensure that their gamification programs are inclusive and appeal to a wide range of users—or be prepared to customize based on target demographics. Both routes can be challenging. Different user groups may have different preferences and motivations, as well as different hurdles to navigating a particular feature. On the other hand, creating numerous experiences can be costly, time-consuming, and lead to lower-quality results.
Steps to Get You Started
Not sure where to begin? The first step is to know what needs you are trying to address, or what problem you are trying to solve. By identifying goals and pain points, you can determine the primary use cases for adding gamification to your website or banking app.
From that point, you'll be able to better define your target audience and understand who you are trying to motivate with your gaming program. This includes understanding user behavior and their ability to adapt quickly to changes in the market. Knowing your user can help you choose the ideal game mechanics to increase effectiveness.
Finally, it's time to focus on the user experience. Programs, apps, and activities should be easy for users to navigate, providing clear paths for participants to achieve their goals.
Once you've created your gamified experience, it's time to roll it out. Make sure to develop a clear communication plan for introducing the new program, tracking and regularly reporting on its progress to the organization. Communication to all involved parties is the key to the success of any gamification program.
While it's entirely possible, you do not need to develop a program from scratch. Consider customizable off-the-shelf gamification solutions, including Gamify, Goama, StriveCloud, or Moroku to save time, money, or increase professionalism or functionality.
BankBound Can Help Your FI Improve Customer Experience and Engagement
The potential of gamification in banking to engage customers and improve their financial well-being is significant, and by incorporating game mechanics and incentives into their services, banks can motivate customers to adopt desirable financial habits. But refining your target demographic, choosing the right moments or paths to gamify, and broadcasting your successful developments isn't a simple undertaking.
At BankBound, our experienced strategists can help you create a strategy for how to employ gamification at your FI, then get the word out once it's ready to go. Whether you want to encourage good financial habits from saving and budgeting to responsible spending, or make a financial concept or new product easy to understand, gamification has the potential to ramp up customer engagement, improve money management skills, and increase the use of banking services.
Contact us today to get started!