You've finally finished claiming all of your bank's Google Local listings, whew! Now it's time to work on improving Google Local rankings.
The Value of First
While Google is constantly rearranging where users see Google Local listings, or the "local pack", these places always retain high visibility in search results. As of the the date of this blog post, Google is currently showing only 3 places in the local pack (down from 7), making a high ranking Google Local page even more important.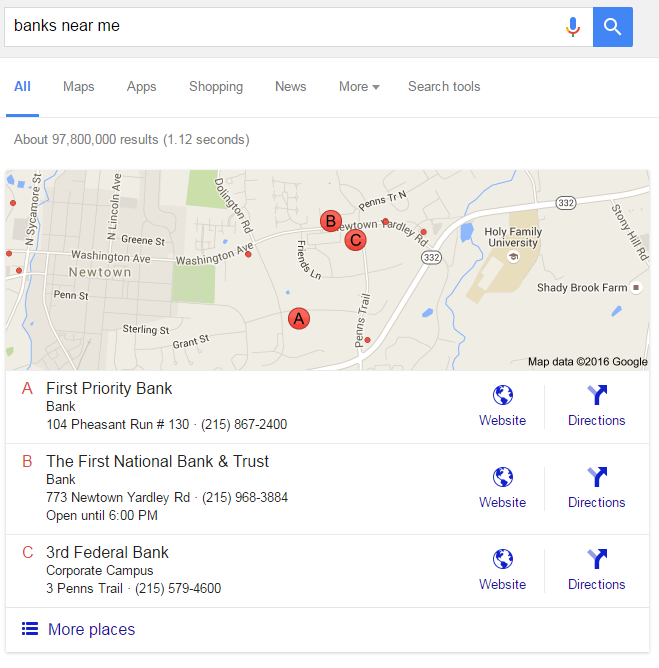 The reason it is so important for your bank or credit union to rank well in Google Local results is evidenced by the high search volume for queries that trigger Local listings. Here's a few that trigger bank listings:
"banks near me" – 90,500 monthly searches
"credit unions near me" – 60,500 monthly searches
"local banks" – 3,600 monthly searches
"local credit unions" – 3,600 monthly searches
"closest bank" – 2,400 monthly searches
These monthly search volumes reflect Google searches conducted nationwide, but even on a local level you can expect these queries to produce even interest to be worth paying attention to. It's also worth pointing out that on occasion, banks that have very generic names or who share a similar name to another bank might see other banks showing up in Google Local results for branded searches. Without properly optimized Local listings your own customers may end up finding another bank's listing while they're attempting to find you!
Google Local Optimization Best Practices
The question then remains, how can a bank or credit improve the visibility of their Google Local listings? Here are a few best practices:
Make doubly sure your listings have the most complete and accurate information – Google wants to provide users with the most relevant results, so take the time to get your listings right!
Solicit reviews – You already know that your financial institution is amazing, so help Google (and everyone that uses Google) know just how amazing with real reviews from actual customers. Reviews have an enormous impact on people researching your brand, thus Google also values reviews greatly. Not only should your bank be soliciting reviews, but take time to respond to negative reviews and thank users who leave positive reviews.
Get more citations than your competitors – Citations are listings of your business on other website directories like YellowPages, Yelp, and Manta. These data providers aggregate information from various sources and likely already have information posted about your locations. It's a tedious job, but claiming each citation for all of your branches across popular websites will establish consistency which is a big ranking factor for Google.
Categorize your listing properly – Google and other local networks like Bing often allow businesses to choose primary and secondary "categories" to classify their business. Choosing multiple categories for your listings is a good idea when possible, but only if those categories accurately reflect what you have to offer at each location. And don't forget, ATM locations are also eligible for their own Local Listings. Relevant Google Local categories for financial institutions include:
Bank, Bank or ATM, Investment Bank, Investment Service, Savings Bank, Credit Counseling Service, Credit Union, Federal Credit Union, Money Order Service, Money Transfer Service, Loan Agency, Check Cashing Service, Mortgage Broker, Mortgage Lender, Financial Consultant, Financial Institution, Financial Planner
Link to your Local Listings – As a best practice, your bank or credit union should have individual pages on your website for each branch location. Within each location page on your website you'll want to make sure you embed a Google map that links to the corresponding Google Maps listing. Implement location-based schema on your website's individual location pages, especially on the name, address, and phone number of each location (NAP).
Improve your website SEO – A big Google Local ranking factor is how well your website ranks in organic results. The more relevant your website is for a local search query, the better your chances to rank well in local results. To improve your website's organic rankings, focus first on a smart "localized" content marketing strategy, then make sure your website is using technical best practices for Google search optimization, and finally look for opportunities on other relevant website to acquire backlinks or brand mentions.
Localize your listings – This is missed surprisingly often by local businesses who take the time to claim their Local listings! Help Google understand how relevant your local business is to a local user by using a local phone number (not an 800), mentioning town names in your listing description, and linking back to the corresponding location page on your website instead of the homepage. Additionally, many local businesses often include the location of their listing in the "business name" field (for example: YouBankName – Newtown). This is technically against the Guidelines for representing your business on Google, but we've never seen any action taken by Google against businesses for utilizing this tactic.
Make sure your listings are 100% complete – Take the time to get all the details filled out on each location, including hours and as many high-quality photos as you can for each photo category. Write out a full description that is unique for each listing.
Be mobile-friendly – For many reasons, including Local rankings, your website should absolutely be mobile-friendly.
Final Thoughts
This list of Local SEO best practices may seem daunting, but the importance of Google My Business listings to your bank cannot be overstated! With Google now only showing 3 listings in the Local Pack, and with SERPs now showing four text ads at the top of results, earning top local rankings is more important than ever for local businesses. Having physical branch locations is an enormous advantage in local search, so investing in a localized SEO strategy will allow your bank or credit union to generate substantially more brand visibility, website traffic, foot traffic, and new business! Read more about getting and keeping rank power.