As a local financial institution, you're dedicated to meeting the banking needs of the communities you serve. Similarly, the medical professionals in your community are dedicated to meeting healthcare, dental, and veterinary needs. They also have unique financial needs and challenges that your bank or credit union is well-positioned to meet. In this article, we'll help you get the word out with marketing tips for medical professionals.
What is the managed care industry?
Managed care is a type of healthcare delivery model designed to lower costs and improve outcomes. Unless a physician, dentist, or veterinarian owns a private practice, they are probably operating within a Managed Care Organization (MCO). MCOs are healthcare companies or insurance plans that bundle hospitals, clinics, primary care offices, and specialists into one network for patients covered by a certain insurance plan. I.e., in-network vs. out-of-network provider. However, "participation in managed care has had significant and largely unpleasant effects on numerous aspects of medical practice," according to a survey of physicians. Understanding the pressures and stressors your local medical professionals are dealing with will help you to better meet their banking needs.
Medical Professionals with Advanced Degrees
When marketing to medical professionals, you first need to decide which types of medical professionals are eligible for your special offers and loan programs. For example:
Doctors (MD or DO)
Dentists (DDS or DMD)
Physical Therapists (DPT)
Physician Assistants (PA)
Nurse Practitioner (NP)
Veterinarians (DVM or VMD)
Average Student Loan Balances
Medical professionals may have a high debt-to-income (DTI) ratio, but their lifetime earning potential makes them desirable as borrowers. Offering home loans specifically for medical professionals, with more flexible underwriting criteria around DTI, is a great way to market to this group of people and meet their banking needs.
Medical school: About 73% of new doctors graduate with debt–the median student loan balance is $200,000.
Dental school: About 83% of new dentists graduate with debt–the median student loan balance is $300,000.
Veterinary school: The median student loan debt for new vets is $160,000.
Physical Therapy: About 93% of new PTs graduate with debt–the median student loan balance is $150,000.
Physician Assistant: The median student loan balance is $112,500.
Marketing Home Loans For Medical Professionals
Community banks and credit unions offer local decision-making and in-house underwriting, making them perfectly suited to tailoring home loans to medical professionals with high student loan balances. Let's look at some real-life examples of home loans for medical professionals: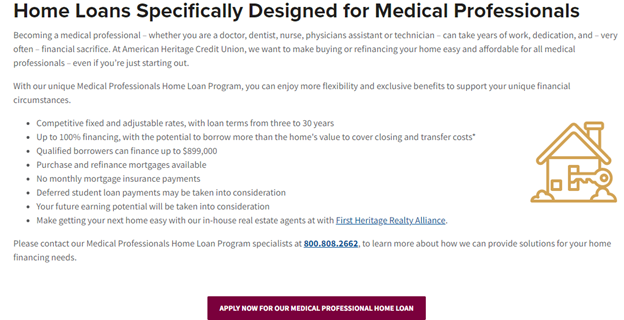 The unique-to-medical professionals details in this example include the no-down payment option (up to 100% financing), the ability to borrow more than the conforming loan limit (up to $899,000), no PMI requirement, and special consideration for deferred student loan payments and future earning potential.

Similarly, emphasis is placed on future earning potential, special consideration is given for student debt, and medical professionals can make lower-than-normal down payments.

In this example, we again see the option of a no-down payment mortgage or a low down payment for loans up to $2 million. Also, the terms are very favorable with no mortgage insurance requirement, deferred student loans excluded from the credit approval process, and closing before the new medical professional's job starts.

Finally, this example incorporates the key benefits of a medical professional mortgage: you can qualify for a higher-than-normal loan amount based on future earning potential, there is an option for no down payment, and special consideration is given for student loan debt.
If you don't have a stand-alone Medical or Healthcare Professional Mortgage at your bank, another approach is to market FHA loans to healthcare professionals as in this example.
Personal Banking Services for Medical Professionals
In addition to designing home loans with special terms for medical professionals, you should also market your financial institution's existing financial products for the specific needs of busy doctors, dentists, and other healthcare professionals. For example:
Insurance
 Does your bank have an insurance division? Be a one-stop shop for car insurance, home insurance, life insurance, and even business insurance for medical professionals who own their own practice. You can make the process easier by helping them weigh the benefits of different policies and bundling policies at a discount. Busy professionals will appreciate having one online banking portal in which they can view account balances and pay several monthly bills such as their mortgage payment and insurance premiums.
Wealth Management
 Just because doctors typically make a lot of money doesn't mean they're always good at managing it. And the busier someone is, the harder it is to set aside time for budgeting, reviewing long-term financial goals, making investment decisions, and so on. If your bank has a wealth management department, you can help your healthcare professionals develop and maintain a comprehensive financial plan that includes investing, retirement planning, estate planning, business planning, and trust services.
Personal Checking and Savings Accounts
 Of course, dentists and veterinarians also need a checking and savings account. You can help them set up online bill pay to automate monthly bill payments and avoid accidental missed payments and late fees.
Business Banking Services For Medical Professionals
Dentists, veterinarians, and physical therapists often own their practices. This means they need the same business loans and banking services as other small business owners in your community. Check out these examples of marketing business banking services to healthcare practice owners:
Note the focus on providing "solutions" to healthcare practices.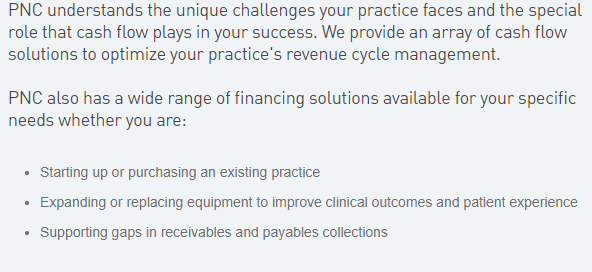 Highlighting cash flow as a specific challenge for healthcare practices personalizes the message and signals your bank's experience working with these types of business owners.

This bit of copy meets doctors where they are–with a little bit of humor thrown in.

A complete list of business banking services for healthcare practices could look like:
Cash flow concerns
Equipment loans or leases
Commercial real estate financing
Investment planning
Business insurance
Merchant services
Sweep accounts
Retirement savings account for practice owner and employees
Other employee benefits
Get help marketing to medical professionals!
At BankBound, our experienced team of digital marketing nerds is ready to provide data-driven results for all your digital marketing campaigns, including to medical professionals. We work exclusively with local financial institutions, so we understand the unique challenges small banks and credit unions face. From copywriting to PPC advertising and more, learn about our digital marketing solutions and contact us to learn more!