Congratulations, your team has launched a mobile app for your bank! Now it's time to get it into your customer's devices!
Mobile Is Sort Of A Big Deal For Banks
The stats are everywhere and increasing regularly; mobile banking is no longer a value-added service banks and credit unions can potentially offer. Rather, mobile apps are an essential offering for any financial institution that hopes to remain competitive. Here are just a few recent findings to emphasize this point:
According to a Pew Research study, 96% of Americans own a mobile phone. The share of Americans that own a smartphone is now 81%. Bankrate found that at least 55% of Americans have at least one banking app.
Salesforce recently conducted a study that found, "75% of Millennials are at least somewhat reliant on a mobile banking app to interact with their bank for tasks such as depositing or sending checks, checking their balance, and paying bills."
A Fiserv study found that bank customers held 11% more financial products after adopting mobile banking. As you might expect, in-branch transactions also decreased 32% for customers that adopted mobile banking. It's also worth noting that customers not utilizing mobile banking were twice as likely to leave the bank when compared to mobile-engaged customers.
Had enough? It's quite obvious that mobile banking is a big deal for banks and credit unions who want to attract new customers, retain existing customers, and increase revenues. You get it; your financial institution already proudly displays links on your website to your shiny new app in App Store or in Google Play. Great work! Now let's increase your mobile banking adoption rate!
Increasing Mobile Banking Adoption Rates Using PPC
Pay per click advertising is an extremely cost-effective channel for increasing mobile app installs. This is especially true for banks and credit unions, since ads really only need to target existing bank customers and this audience is already familiar with your brand. Statistically, the majority of your customers already have and use smartphones; getting your mobile app in front of them is where pay per click ads come in!
Search ads – Using search ads, banks and credit unions can show click to install ads and ad extensions to mobile users searching Google, Bing, and Yahoo for their financial institution. Introducing your app to mobile users searching for your bank by name is an easy win; you're offering these users a better mobile experience and convenient mobile banking tools!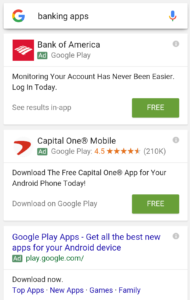 Social Ads – Chances are, a large portion of your bank's Facebook followers are also customers. Targeting these followers with click to install ads for your mobile banking app is a cost-effective way to reach customers since most Facebook users access their accounts frequently/obsessively.
Remarketing Display Ads – Within Google AdWords you can set up remarketing audiences based on the actions of your website visitors. After a visitor has hit a qualified page on your website such as the branch locations page, you can offer them click to install ads for your mobile app as they browse other websites or apps.
Remarketing Social Ads – We're nearly all addicted to social media; remarketing ads promoting your app can also reach your website visitors as they're browsing popular networks like Facebook or Twitter on their mobile device.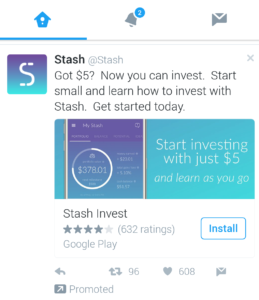 Email-Based Remarketing Ads – Search engines like Google and social networks like Facebook now allow advertisers to upload their own email lists for targeting. Targeting users based on email address guarantees your ads are receiving the most qualified impressions possible.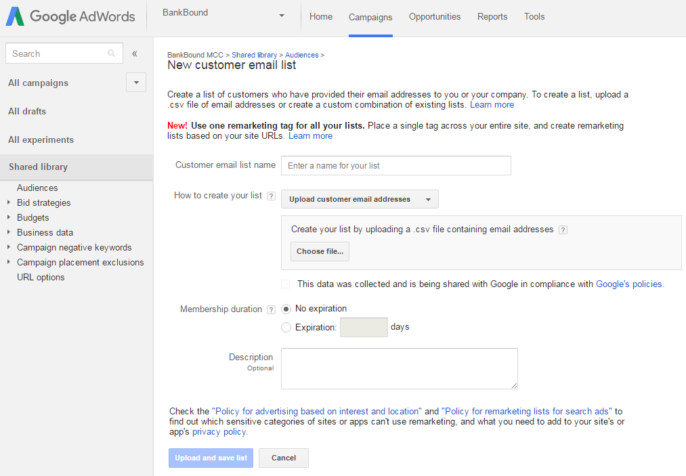 Final Thoughts on PPC for Mobile App Adoption
Pay per click ads offer three major advantages to advertisers: precision targeting, detailed analytics, and immediate visibility. It's also worth noting that regardless of how many times users see your ads, you're only charged when they decide to click your ads. This ensures your advertising dollars are invested in more qualified audiences. You're already familiar with the benefits of having a mobile app for your financial institution, take advantage of pay per click advertising to ensure your customers download it!