A long local history is often a unique selling proposition for community banks and credit unions. Whereas that national bank branch may have only appeared in your town a few years ago, your local financial institution has been serving the area's families, individuals, and small businesses for decades. Promoting your 50, 100, 125, or 150+ years of service is always a good marketing approach but celebrating a milestone anniversary is a special opportunity to highlight your bank's commitment to the community and show off all of the products and services you offer. In this article, you'll find specific ideas for promoting a bank anniversary in order to increase brand awareness, engage with current customers and reach prospective ones, and boost community pride and employee morale.
Update Website and Ad Copy

This is a logical first step in promoting your bank's anniversary. Before you do anything else, make sure your website logo and graphics, as well as the copy for site pages and ads, reflect your milestone year. For example, you could create a special anniversary logo to be used all year long. It should look similar to your permanent logo, while highlighting the number of years you've been in business.
For example, if you're celebrating your 150th anniversary, make sure the content on your website and ads reads something like "over 150 years" instead of "nearly 150 years." These are minor edits, but they make a big difference in presenting a consistent message to your customers and community. Once you've finalized an anniversary logo, use it consistently across both digital (website, social media, local listings, ads, email) and print channels (customer statements, signage, brochures, direct mail, business cards.
Charitable Donations and Partnerships
Community banks have always been a natural partner to local nonprofit organizations. Celebrating your anniversary with a charitable sponsorship is a great way to generate more buzz about your bank's milestone and increase your social media engagement. It also highlights your longstanding commitment to investing in the towns you serve. Best of all, your chosen charity may be able to execute some of the activities and marketing efforts, so that all of the responsibility doesn't rest with your bank.
When you make a charitable donation in honor of your anniversary, you receive multiple benefits:
Highlight a core value that differentiates your community bank from national banks
Reach more members of your community through your non-profit partner's digital and traditional marketing efforts.
Connect with local professionals who are involved with the charity. For instance, many non-profit board members have successful local businesses.
For example, you could create a new initiative with a local organization your bank already supports. Get your current and potential customers involved by offering to make a charitable donation that correlates with your anniversary (such as $100 for 100 years) for every new account opened. Get current customers involved by asking if they want to donate, too.
You might also organize special activities around your anniversary and feature your partner organization at one or all of your events. For example, you could offer financial literacy/personal finance workshops to children and adults. In turn, a representative from your bank could speak at one of the charity's events.
However you approach your charitable partnership, make sure to advertise your initiative on social media as well as in your branches. You could also create mailers to send to current and prospective customers. Encourage your social media followers to share your charitable donation posts—people love to support a good cause, especially when it's in their backyard! Of course, your nonprofit should also advertise the partnership on social media and encourage their followers to share the posts and follow your bank.
Example of Charitable Partnership – Charity Champions Initiative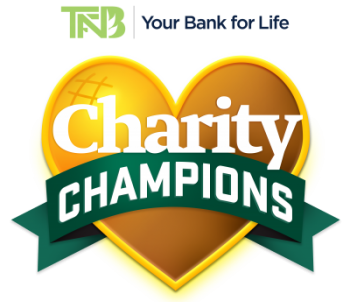 Five years ago TFNB Your Bank for Life came upon its 125th anniversary, and the bank wanted to celebrate the milestone in a lasting way; one that would make a meaningful impact on the local community. Charity Champions was launched as an initiative to "help those who help others," extending the organization's reach beyond traditional banking and donating. Each year, hundreds of nominations come in from their local community and employees vote to crown 6 Charity Champions recipients. Selected winners receive marketing and grant writing resources, publicity at Baylor University football and basketball games, ongoing executive leadership training, development of digital content such as videos, commercials, social posts and much more.  Although Charity Champions is its own initiative, it is the essence of who TFNB is as an organization. Employees love participating in the different outreach opportunities that are created, and customers see first hand that the bank puts its money and time right back into the community that has supported them for over a century. How could it get any better than that?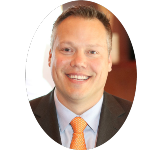 One of the reasons that TFNB Your Bank for Life has stood the test of time is that for the last 130 years we have intentionally stayed true to what community banking is intended to stand for…community."
Jason Lavender SVP, Director of Strategic Initiatives, TFNB Your Bank for Life
Facebook Events
Are you planning a public celebration of your bank's anniversary? Whether your event is in partnership with a local charity or not, spread the word by setting up a Facebook Event Page. You can share your event at no cost or run ads to amplify its reach.
Be clear about your goals for every anniversary-related event you plan:
If you plan an event with a local non-profit, you can work with their communications team on the messaging. You'll probably want to celebrate your community as a whole, while highlighting the good work that your bank and the charity do.
Can you create posters chronicling the important milestones in your bank's history? Are there any special artifacts in your possession that could be displayed? If so, you could create an event around an ongoing exhibit in your oldest branch. Invite the community to an opening reception and then leave the displays up all month. The goal for this kind of event would be a celebration of your bank's history and staying power.
If your anniversary occurs in a warm month, consider hosting a festival-like event to celebrate community pride and amplify your marketing messages through giveaways, signage, and other promotional materials. After all, you want to show your gratitude to the community that has kept your bank in business all of these years.
Speaking of gratitude, your employees are another big factor in your bank's ongoing success. Consider hosting a special event for employees and their families to boost morale and celebrate team efforts.
Example of Anniversary Celebration – Franklin Savings Bank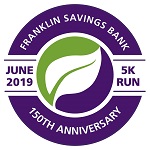 To celebrate its sesquicentennial, Franklin Savings Bank is hosting a number of locally-focused festivities in a single day celebration. The event will include a 5K run/walk, local artisan marketplace, local food vendors, live musical performances by local musicians, face painting, balloons, magic show, and an interactive mountain bike riding area. All proceeds will be donated to a local nonprofit as well!
Special Rates and Financial Incentives
Many banks already offer occasional promotional interest rates, as well as ongoing financial incentives for customer referrals and new accounts. Cash rewards and special rates are always effective at generating new customers and encouraging existing customers to open a new type of account. According to Harvard Business Review, "customers obtained through referrals are both more loyal and more valuable than other customers." The article also states that referred customers are more likely to become long-term account holders and they bring in about 16 percent more in profits than non-referred customers.
Tie the financial incentive to your anniversary:
Make it time limited. Deadlines inspire people to take action, so limit the promotion to your anniversary month, for example. You can decide the time period, but make sure your marketing materials specify that this is a limited offer (so act now!).
Use your anniversary number. For example, if you are celebrating your 125th year in business, you could offer a special 1.25 percent interest rate or a $125 cash reward for new checking accounts. Another approach is to give a special gift or financial reward to the first 125 people who sign up for something.
Once you've decided on a financial incentive and time period, get the word out with in-branch advertising, mailers and statement advertising, and of course social media! Anniversary financial promotions make for great social media shareables that will drive audience engagement and new account holders.

Contests and Giveaways
Prize giveaways are another effective way to generate buzz around your anniversary and get people to take a certain action (such as opening an account or following your bank on social media). Many social media giveaways are quite simple: if you tag a certain number of people, leave a comment, or become a new follower, you're entered to win the prize.
Online contests and giveaways amplify your online footprint and attract new customers.
When designing a giveaway, the two main considerations are prize desirability and ease of entry. Generally, the more desirable the prize, the more you can ask people to do to be entered in the contest. For example, you could offer the chance to win a trip to Disney World to everyone who opens a new checking account during your anniversary month. If the prize is something smaller, like a $50 gift card, you can increase entries by making it extremely easy to participate.
Contest Rules on Facebook and Instagram
Facebook no longer allows personal timelines and friend connections to be used as contest entries (i.e. share this post on your timeline or tag 3 friends). However, you can still ask people to like or comment on a specific post, or to create a post on your bank's page. For example, you could choose a winner at random from everyone who likes your contest post. Or you could use the contest as an opportunity to collect testimonials. If the prize desirability is motivating enough, you could ask customers to leave a comment or post on your timeline with a review of their experience with your bank.
On Instagram, you can still run a tag-a-friend contest, which puts your post and your brand in front of new people with a personal connection to your existing customers. You could also do something fun, like a photo caption contest, or collect testimonials by asking contest entrants to post a photo of themselves outside one of your branches with a review of their experience with your bank. Just provide a specific hashtag for people to use in their entry post.
One last thing—before you launch your contest, make sure you're in compliance with all federal, state, and local laws regarding contests and giveaways.
Customer and Employee Stories
Whether you collect customer success stories through one of the contest ideas mentioned above, or find another way to gather testimonials, consider turning some of them into longer narratives like a blog post. Look for compelling stories that highlight a range of situations your bank can help with. For example, a young couple able to buy their first house thanks to your bank's flexible loan terms and local decision-making. A small business that used financing from your bank to open a new location. The retiree who feels financially secure thanks to investment and trust services from your bank.
Employee narratives are another great way to show off your bank's history and dedication to its community. You could feature interviews with longtime employees that reflect on the bank's history and the different roles they've played over the years, as well as their delight in helping people meet their financial needs and goals. Historic firsts also make for feel-good, very shareable stories on social media. Look for current or retired employees with a story like this one from Barack Obama's maternal grandmother:
"Madelyn Dunham, who took university classes but to her chagrin never earned a degree, nonetheless rose from a secretarial job at the Bank of Hawaii to become one of the state's first female bank vice presidents."
Once you've collected enough stories from customers and employees, share them on your blog, social media, and other marketing materials.
Digital Ads
Now that you've created special content and logos, planned events and contests, and your anniversary celebration is ready to unfold, it's time to promote your bank's milestone to a wider audience. Here are the most effective pay-per-click advertising strategies for financial institutions:
Remarketing ads: By running remarketing ads, you can target people who have previously visited your website with pay-per-click ads.
Customer-match ads: Upload customer emails into Facebook and deliver pay-per-click ads to your existing customers on Facebook.
Display ads: Run pay-per-click banner ads on local news websites, YouTube, and other relevant sites.
Facebook ads: Use social media advertising on Facebook to promote your bank's event pages, contests, and blog posts. Consider creating a branded hashtag for this event and use on organic and paid social posts. This will allow you to easily view posts that are shared by you and your followers.
What's worked for your financial institution? Share your ideas and examples to be featured in this post!