According to the 2017 FDIC National Survey of Unbanked and Underbanked Households, the percentage of "unbanked" Americans, meaning those without any accounts at a bank or credit union, was at its lowest since the survey's 2009 beginning. The unbanked figure is an important benchmark because⸺despite the financial industry's other changes and advancements⸺personal checking accounts are still at the heart of retail banking.
A bank's personal checking customers also represent its biggest opportunity for cross-selling. So, how do you reorient your customer acquisition strategy around the new slow-growth reality in the US checking market? With fewer unbanked households to win over, reliable strategies of the past, such as new branch openings, are no longer enough. Community banks need to understand why and when people switch banks in order to create marketing messages that appeal to these "in-play" banking customers.
The Who, What, When, and Why of "Switchers"
In the 2018 Consumer Banking Insight Study, the majority of respondents (66 percent) identified "local" as an important attribute for choosing an institution. However, a lower percentage (42 percent) actually had an account with a local community bank or credit union. The takeaway is that people may feel good about supporting local businesses and financial institutions, but their actions don't always match their words, especially when the perceived inconvenience of switching banks is involved. Let's dig into the real motivations and attributes of in-play banking consumers.
Who is most likely to switch banks?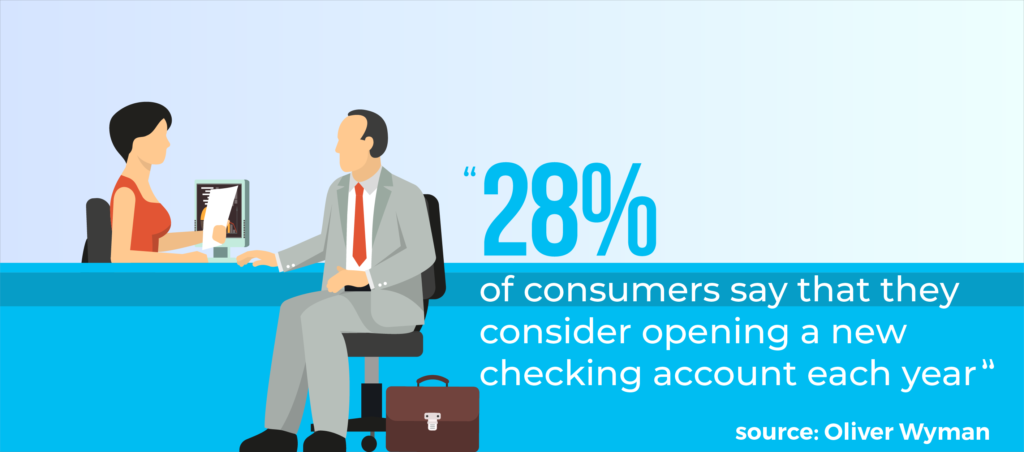 The first thing to understand about switchers is that, of the approximately 28 percent of Americans who say they are considering opening a new checking account each year, only 40 percent of these on-the-fence folks actually make a switch. So, there are two primary opportunities for bank marketers to understand and reach switchers:
The 11 percent or so (a Digital Scientists report on "The Anatomy of Consumer Switching Behaviors" found that "more than 17 percent of account holders switched their primary financial institution within the past 12 months") of all checking account holders who complete the switching process.
And the other 17 percent who didn't encounter a compelling-enough message to go through with it.
According to the same Digital Scientists report, the "probable switcher" is typically a married man with a family who is college-educated, earns about $75,000-$100,000 annually, and belongs to the millennial generation.
When do people switch banks?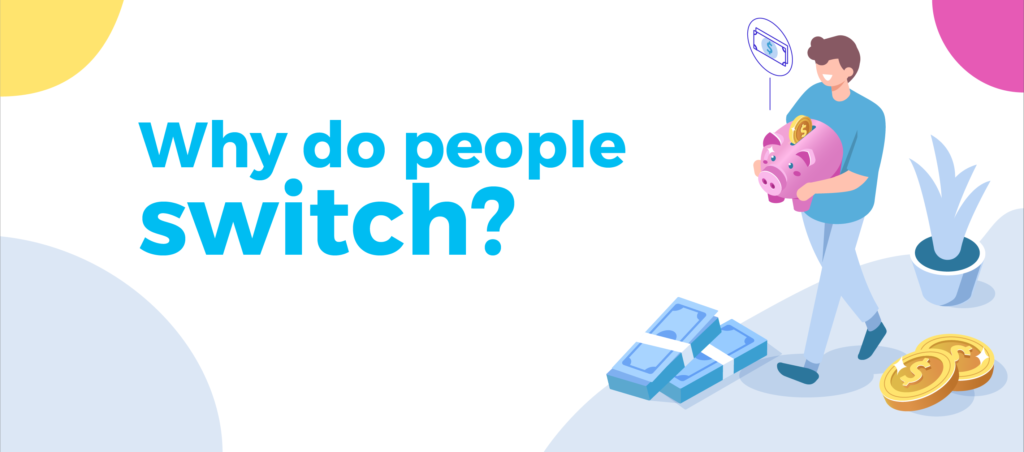 Several recent reports find that changes in life circumstances are a major trigger for people who do end up leaving their primary bank after contemplating a switch. For example, a customer who moves away from their old bank branch may think it a necessity to open a new account with either a local bank in their new community or a bigger bank with local branches (see our other blog post about new mover marketing ideas).
Life changes can also prompt people to re-evaluate their current situation. A married couple decides to move all of their accounts to the same bank. New parents feel a greater urgency about their finances and look around for better bank options. Finally, "change bundlers" act on the general dissatisfaction they've felt with their current bank while caught up in the momentum of making other changes.
Besides life changes, why else do people switch banks?
If you had to guess why people switch banks when nothing else in their life has changed, you'd probably say it had to do with bad customer service or a lack of digital banking options. If so, you'd be right, with the latter holding particular significance for millennials. The complete list of motivations for switching includes:
Customer Service: There may not be one particularly terrible experience that motivates a switch. Instead, a switcher's previous bank may simply have provided lackluster or indifferent service that doesn't motivate the customer to stay.
Variety of Services and Products: Convenience is a highly desirable trait in a bank for today's consumers. If they can't meet all of their financial needs at their primary financial institution, they may be motivated to shop around.
Online and mobile banking: As mentioned above, millennials put a premium on digital banking channels. That doesn't mean they're looking for a digital-only bank, but they do want their financial institution to keep up with fintech advancements. "Omnichannel" is the buzzword to describe how people want to bank: at the branch, online, mobile, over the phone⸺in other words, they want to bank on their terms with a complete list of options to choose form.
ATM and branch networks: No one likes to pay fees on out-of-network ATM withdrawals. And consumers still cite branch location proximity to their home or office as a priority.
High fees: Speaking of fees, most people just don't like to pay them, period. People may search for fee-free checking accounts and banks that refund ATM fees or charge a lower amount for overdrafts, etc.
What kinds of financial institutions and accounts are the Switchers looking for?
Research shows that personal recommendations are one of the biggest influences on Switchers' choice of a new bank. People are also influenced by marketing material and promotions, prior experiences (such as having a secondary account at the bank they switch to), and online research. A crucial takeaway about bank choice is that most people who switch already have a few banks in mind. Thus, it's not enough to market to people who are already motivated to switch. You must establish a recognizable brand footprint with consumers in order to make their list of preconceived options. In the next section, we'll get into the "how" of winning over Switchers with actionable marketing tips you can implement right now.
How to Position your Bank's Messaging to Appeal to Consumers Before they Become Switchers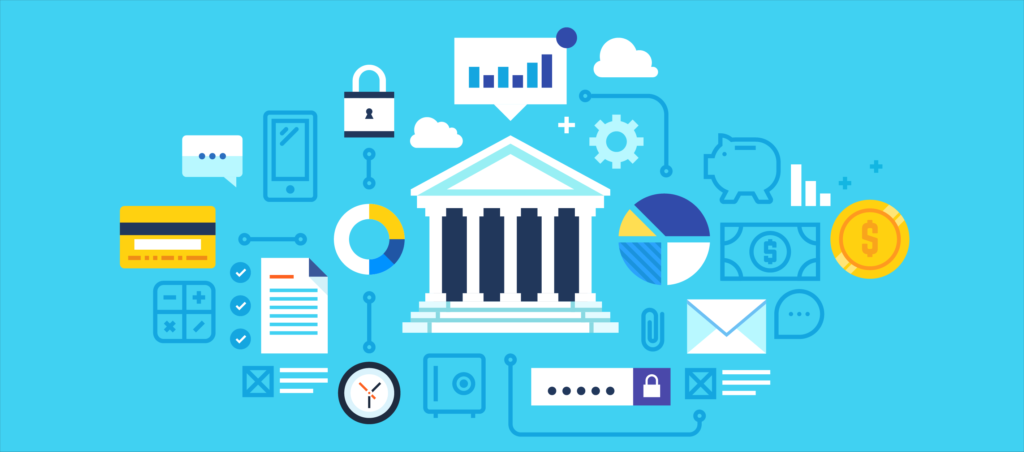 Let's take what we've learned about the psychology of bank switchers and turn it into specific marketing strategies.
Value Proposition Messaging: Make sure your bank's marketing messages communicate the value propositions you offer to meet customers' needs. For example, many community banks offer nationwide ATM networks in spite of their regional presence. You also want to advertise your mobile banking app and online banking or account opening capabilities. If you have a checking account without maintenance fees, make sure people know about it. Finally, leverage the "bank local" value proposition that consumers find attractive as well as your bank's core values around customer service.
Leverage Net Promoter Score (NPS): Find out how many of your customers are promoters who would recommend your bank to friends and family. Address issues and improve the customer service experience. Advertise your score, if it's high, as part of your value proposition messaging. These are all examples of what you can do when you start measuring your Net Promoter Score.
Highlight Local Branches: Well-situated physical branches can serve as a billboard to advertise your brand. Make sure you keep your signage and general external appearance in good condition. Physical locations are also important to people looking for a new bank— "nearly a third (31%) of 18-24-year-olds cited the location of branches and ATMs as a contributing factor in their decision to change their bank or credit union," according to Digital Scientists.  You can also use local branches to boost your brand footprint online. Post photos and updates on social media that showcase the unique people, events, and overall environment at your branches. At the end of the day, many banks offer a fairly similar menu of products and services, so it's your people who will distinguish you from the competition.
Niche Products & Services: That said, if you do offer anything unique to your bank or a specific branch, make sure to shout it from the rooftops.
Technology, Technology, Technology: Like the political saying, "It's the economy, stupid," or the real estate slogan, "Location is everything," appealing to financial services consumers right now often comes down to technology. If you want to compete against the bigger banks and fintech start-ups, you need to let consumers know that you can offer the same omnichannel banking experience and convenience that they offer. From online and mobile banking to online account opening and loan applications, get the message out about your technological prowess.
Marketing Tactics for Capturing In-Play Switchers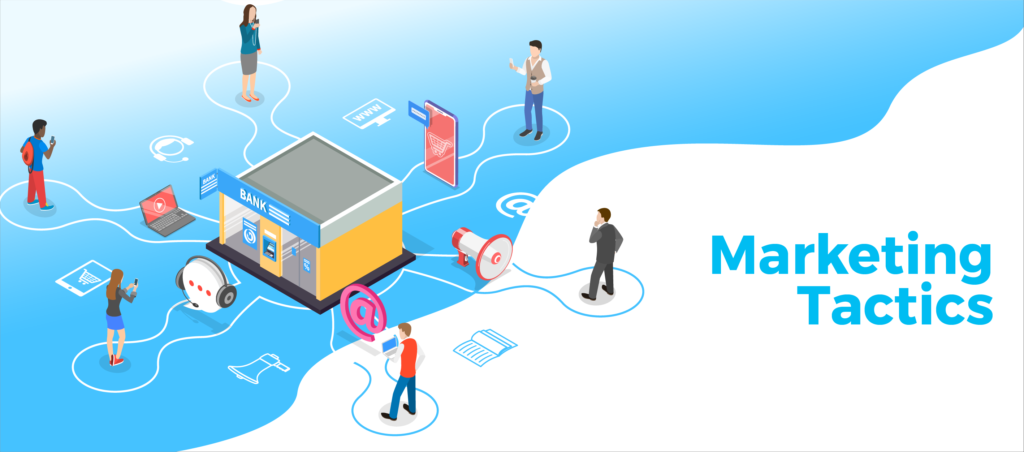 Once you've established a brand awareness campaign to be one of the banks someone already has in mind when they consider switching, it's time to deploy additional tactics for converting more of those in-play customers who don't complete the switching process. Technology will also be key here, as digital marketing offers many opportunities for micro-targeting people based on the characteristics of likely switchers.
Search Engine Ads: Target people who are actively searching for a product or feature you offer, such as free checking or online account opening.
Behavioral Targeting: Promote relevant educational content via social media and other online advertising based on users' demonstrated interest. For example, you could target people searching for mortgage loans with a home buying guide article from your blog.
Remarketing Ads: Cross-sell relevant products to your existing customers through remarketing ads, which can advertise already-viewed and related products. This can be especially effective when your bank is someone's secondary financial institution, but they are motivated to move all of their accounts to you.
Email Marketing: The onboarding process for new customers is very important in determining how the rest of their relationship with your bank unfolds. From following up with people who started an online application but never finished, to checking in on new customers to see how their experience is going, personalized email marketing can be an effective way to stay in touch. It's also another way to cross-sell related products.
Content Marketing: Regular content creation for your website and blog is an important part of helping people find your bank and products when they begin their customer journey with online research. In general, a modern, helpful, and easy-to-navigate website should be a valuable part of both your customer acquisition and retention strategies.
eStatement/Statement Ads: This is another way to reach existing customers in order to cross-sell products, promote special offers, and ask them to recommend your bank to a friend. If you offer any kind of referral reward, make sure people know about it.
Direct Mail:  Use purchased lists to reach people in the wake of major life changes such as a move, marriage, or the birth of a child with postcards and other forms of direct mail. 
Switch Kit and Service: Aversion to inconvenience is the biggest factor in preventing would-be switchers from following through. Most community banks have a link to a switch kit on their website, but it's usually buried. Bring your switch kit into the light by promoting it across your website and within your ads. You might also consider hosting a dedicated event for helping customers switch their accounts and learn more about the bank, or enabling banking staff to assist customers directly with switching over automatic debits and credits from a previous financial institution.
What else can banks do to help prospective customers switch?
"I have always come back to the option of providing our banking staff with the resources they need to assist customers in what they need to do to switch over any types of automatic debits and credits."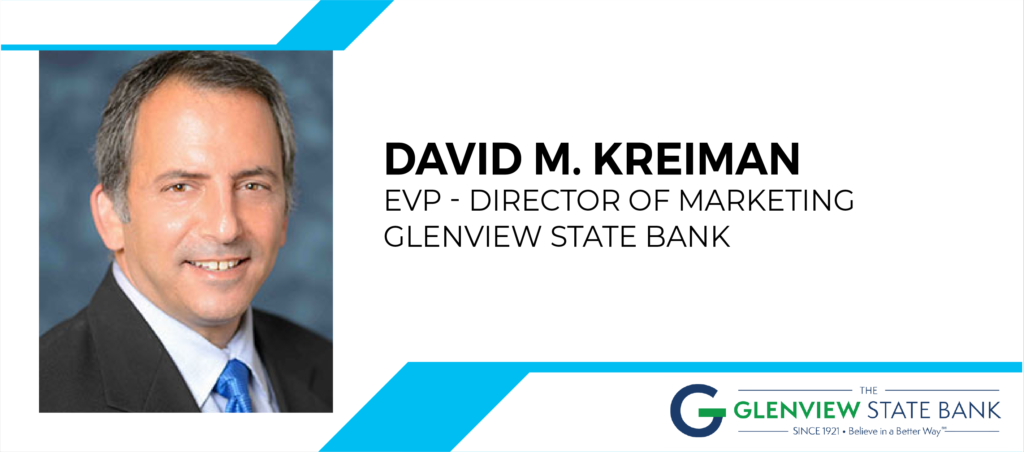 Looking for a partner to help you convert more in-play customers?
If you're nodding along as you read this article, but wondering how you can implement all the tactics yourself, we get it. Most of the Financial Marketing Professionals we talk to have a chronically overstuffed to-do list already. That's why BankBound maintains a singular focus on digital marketing for banks and credit unions. We're here to be your perfect partner in growing your brand and converting would-be switchers with relevant marketing. Contact us today to discuss the best tactics for your bank to reach more customers.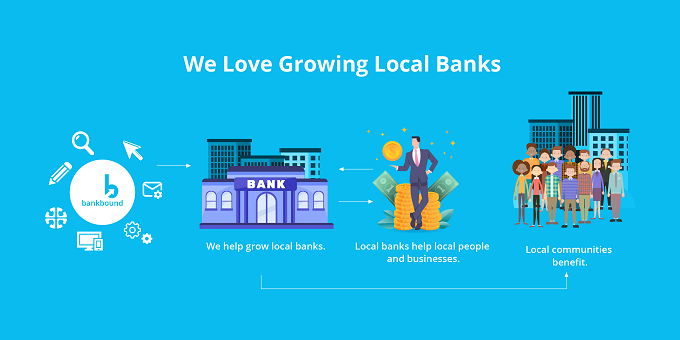 Have insights from your bank that belong in this post? Contact us!