In this article, we'll share actionable ideas for your coronavirus communications and changing marketing tactics.
Since late December, when China first confirmed the outbreak of a new coronavirus, COVID-19 has spread across the world and is now classified as a global pandemic. Here in the United States, more than 80 million people are living under lockdown and most non-essential businesses are closed to slow the spread of COVID-19.
In this difficult time, bank marketers face special challenges as they try to communicate with customers during a still-developing crisis. And the banking industry overall must figure out how to deliver the financial products and solutions customers rely on while many physical locations are temporarily closed.
We know your time is more precious than ever right now, so we promise to keep it simple and helpful. Have a tip we didn't share here? Let us know and we'll add it to this post.
Create a landing page or blog post for ongoing bank updates.
As the situation changes daily and new information comes out all the time, the easiest way to share updates with your customers is to keep everything in one place.
Promote social media updates with page followers or uploaded lists on Facebook using Facebook ads.
Make sure your important messages reach as many people as possible with promoted posts, in which you can ensure your Facebook page posts are seen by people who "like your page," and Facebook ads, which can put your Facebook post in front of a specific list of users associated with an uploaded email list.

Create social media images for various updates.
Create a Google My Business (GMB) update for each of your locations.
This is a convenient way for your customers to check your latest hours or drive-thru only status on Google. The easiest way to update GMB is to add an event. For example: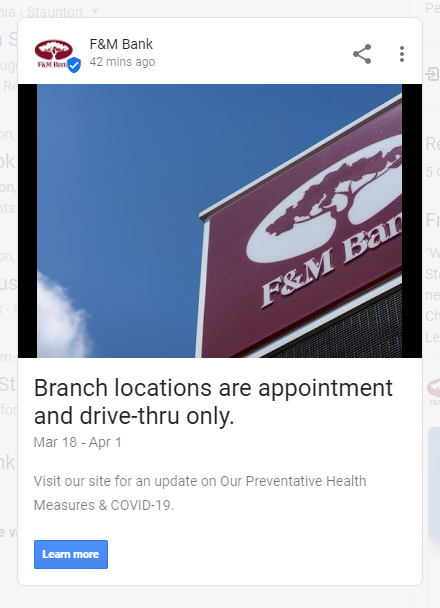 Use your email platform to reach customers with important updates.
If you don't have an email platform already, we can offer you 30 days free (it would still require some technical integration to authenticate the emails we send on your behalf). Learn more about email marketing here. You can also use email marketing to send special offers and track the customers who click on your links. You may need to change the products and services you're marketing, and email is a great way to make those pivots swiftly.
Send notifications by direct mail.
Not all of your customers may be digital savvy. Use a combination of traditional and digital marketing communications to ensure your COVID-19 updates and marketing messages reach everyone.
Change your marketing strategy as needed.
In addition to dealing with Coronavirus communications, many bank marketers are also facing necessary pivots in their approach. Here are three questions to ask:
Should we focus less or more on certain types of loans?
Do we stop marketing deposits if users cannot open an account online or in-branch?
Should we pause ads that include specific rates?
Promote mobile and online banking.
Now is the time to advertise your mobile banking app and online banking capabilities. Let customers know they can still deposit checks, pay bills, and transfer money online. You may also want to post locations of your drive-up 24/7 ATMs where customers can also deposit checks and withdraw cash.
Continue your role as a community leader.
Community banks have an important role to play during normal times, and this only becomes more true during a crisis. As a community leader, your bank can help the public in these ways:
Remind people to support local businesses and non-profits as they are able. Many small retailers are offering curbside pickup or shipping for orders placed online or over the phone. For example, people who need reading material could order books from a local bookstore.
For people in your community who are suffering financially, share resources for local food pantries and other organizations that can help.
Send messages of unity, i.e. "We will get through this together as a bank, a town, a nation," etc.
Encourage loan customers who are facing cash flow problems to reach out to their personal/business banker or to call the general customer assistance number.
Share Coronavirus Scam alerts to help your customers protect their accounts and other sensitive personal information. Here's information from the FTC and the Department of Homeland Security.
Additional Coronavirus Resources for Bank Marketers
BankBound is here to help with all your marketing needs
We know you have a lot going on right now. Let our experienced digital and print marketers help you get your COVID-19 communications and marketing messages out. We can help with all of the above and more! Contact us today.