Keeping up with the constant changes in social media and networking platforms can prove challenging for small banks due to lack of resources, time, and manpower. This guide will provide an overview of how community banks can best begin incorporating Reddit into their digital marketing and social media strategies.
For many bank marketers, Reddit is an unfamiliar and sometimes confusing outlier when it comes to social news and networking sites. Reddit launched in 2005 and became one of the first online platforms running on user-generated content. It's one of the largest and most underutilized platforms out there and is often an overlooked tool, especially for local banks.
With over 430 million monthly active users worldwide, and 150,000+ active communities, incorporating Reddit as a part of your bank's digital marketing strategy can serve as an added vessel for driving traffic to your website, increasing brand visibility and awareness, and expanding your potential customer base.
What Is Reddit?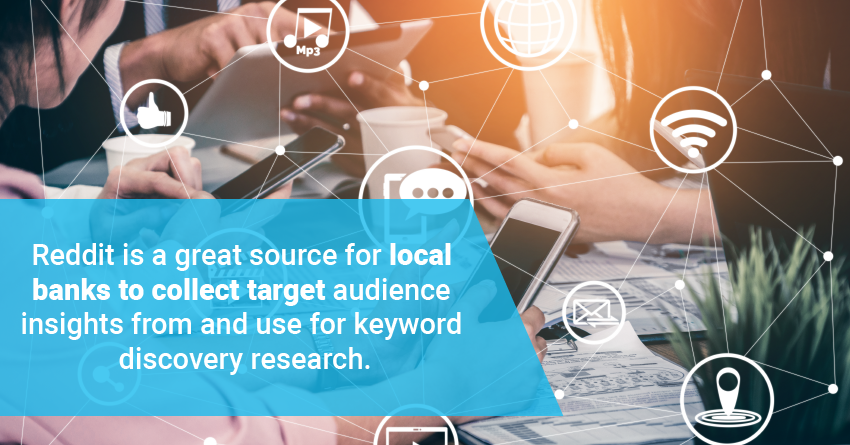 Besides being the newest addition to your digital marketing strategy, Reddit is a social news platform where the main functionality of the site is that users submit and post content that other users vote on. The most popular posts rise to the top of the page, and the best of the best make it to the coveted Front Page of r/all. The more upvotes a user receives, the more Karma they gain. Karma is your "Reddit Score" and no, you can't cash it in for a prize. It's an indicator of your engagement with the platform and how well your content is received by other users.  There are thousands of communities within Reddit called Subreddits – and one for anything you can think of, however niche it may be.
Reddit is often referred to as "The Front Page of The Internet" by its users. It can be a daunting place for those unfamiliar with it, but as you understand the inner workings of how the site functions, you'll be able to use it to your advantage.
As you begin to explore, you'll encounter some Reddit-specific jargon – here's a quick rundown to bring you up to speed:
Redditors
Plain and simple, members and users of Reddit are referred to as "Redditors".
Karma
Karma is essentially a Redditor's individual "Reddit Score". A user earns karma by receiving upvotes on posts and comments that they submit. You'll lose karma when your posts or comments receive downvotes to a number lower than zero. This is why it is important to make sure you are only submitting content that is relevant to the discussion at hand.
Subreddits
Subreddits are individual user-created community boards within the Reddit platform. Every subreddit begins with r/ and then the name of the subreddit; r/banking and r/personalfinance are two examples. Users join and contribute content that is relevant to the subreddit's topic or category. They are essentially built in target audiences – a group of people who have expressed intentional interest in a specific topic.
Upvote/Downvote
Reddit operates on a system of upvotes and downvotes from users. Users receive votes from other Redditors on any post or comment that they submit. The more relevant, helpful, or informative your content is, the more upvotes you will likely receive.
If your post or comment is not relevant to the subreddit or conversation at hand, it will most likely be downvoted. To make sure you're getting more upvotes than downvotes, always follow community etiquette and guidelines and keep posts and comments relevant to the community.
Reddit Gold
Reddit Gold is a little badge of internet honor. It's like someone giving you a pat on the back and saying, "nice work!" Gold is awarded to a Redditor from another when they contribute a noteworthy post or comment.
Receiving Gold grants the user 30 days of access to bonus features and subreddits not available to users otherwise, unless they have a Reddit Premium membership. When you receive a Gold award, you also receive 100 coins that can be awarded to exceptional content. Pay your Gold forward!
Why Should Community Banks Be Using Reddit?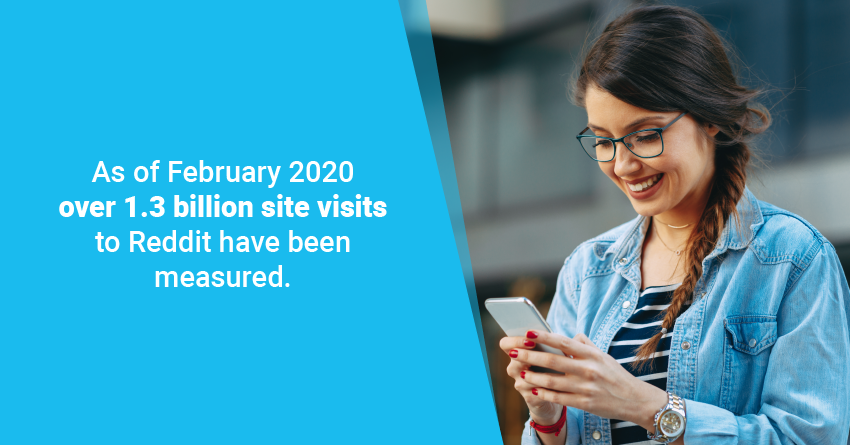 When you take a look behind the curtain, Reddit provides a unique user-generated content experience driven by an engaged and attentive community. Redditors are always looking for information. Community banks have an opportunity here to connect directly with their audiences, expand their brand visibility, and present themselves as a valuable source of financial expertise and industry knowledge.
Built In Target Audiences
Local community banks are able to find and identify their audiences with virtually zero difficulty, because subreddits have already done the work. There are hundreds of finance, banking, and money related subreddits with tens of thousands of subscribers each. Local banks can identify their target audiences within specific finance and banking subreddits and by geographical subreddits such city, state, and regional.
A Vessel For Traffic
As of February 2020 over 1.3 billion site visits were measured, making Reddit one of the most visited websites on the internet. If your bank doesn't have a presence on Reddit where you're contributing branded content from your bank such as whitepapers or blog posts then you will be losing out on that potential traffic to your website and services.
Research Resource
Use target audience subreddits as another research resource. Banking and finance subreddits typically have a couple thousand subscribers at minimum so these can serve as an informative sample size of data. Bank marketing teams can evaluate information from the site to gain beneficial insights on target audience behaviors, patterns, and trends.
Look at what Redditors are posting – review the top posts on your audience subreddits to see what is getting the most attention. If all the top posts and discussions for the month in r/personalfinance are asking how do I know which stocks to invest in, how to open a 401k, or the difference between a traditional IRA vs. a Roth IRA, then that would be an indicator that your target audience is hungry for information about investment and retirement planning services.
Keyword Discovery
As you delve into your target subreddits, take note of popular reoccurring keywords and phrases. You can gain insight into the language your target audiences use to communicate. As you identify ideal keywords through your target audience subreddits you'll be able to incorporate those keywords into your Search Engine Optimization (SEO) and Pay-Per-Click (PPC) efforts.
Including keywords sourced directly from your target audience subreddits in your bank's SEO and PPC efforts can help expand your online visibility and reach new groups of potential customers that you might not have reached otherwise.
You Have The Expertise They Want
Redditors want answers, and they want the right answers! With the millions of users posting to the platform we have to assume that not everyone is a certified expert in everything they weigh in on. Redditors value accurate information that is delivered in a clear and coherent way. There are posts every day on r/banking of people asking for financial advice or direction. They want to hear from someone who knows what they're talking about, so answer them! Be the expert! Providing helpful and accurate information on a consistent basis will build your credibility with the community and increase your visibility on the forum.
Tips For Using Reddit Effectively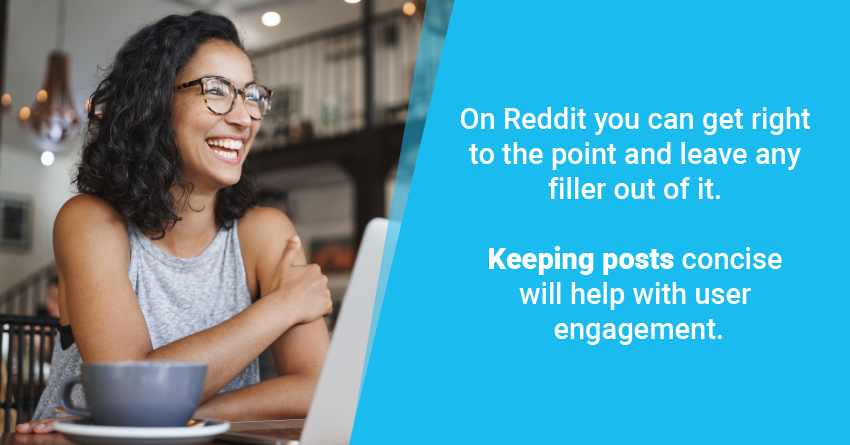 Here are a few tips for using Reddit effectively to promote your bank:
Know Your Audience
Create Content Your Audience Wants
Focus on Upvotes
Engage with the Community
Be Authentic
Know Your Audience
With any digital marketing effort, knowing your audience is key to a successful marketing strategy. When you are able to identify your audience then you will better know what type of content to put out there to get the best results.
Reddit is a collection of over does a great job of making it easy to identify audiences via Subreddits. Subreddits are already broken down into specific interests and users voluntarily join the ones they want to subscribe to, so they have already expressed an intentional interest in the subreddit topic or category.
Choose subreddits that are relevant to banking and finance, the more niche, the better. Posting to large, general subreddits will not attract the level of engagement or traffic you're hoping for necessarily. It's better to be more active on a niche subreddit with less subscribers where you'll get a higher level of engagement and optimal conversion rates.
Create Content Your Audience Wants
What questions are posters asking in banking and finance subreddits? Are they asking for suggestions on the best savings account in Philadelphia? Or are users asking, "how to" questions such as "how do I apply for a mortgage?" or "how do I open a retirement account?" Whatever they are, answer those questions! If your bank has relevant literature such as whitepapers or blog posts then post that to the subreddit! Again, this helps build your credibility within the subreddit by demonstrating industry knowledge and can help increase awareness of your bank's brand by providing relevant resources that are created by your bank.
At first your posts may get little to no engagement or interaction from other users at all and this is the norm. Post consistently and make sure what you're posting is engaging, succinct, and interesting. You want to catch their eye before they scroll past your post onto the next one. On Reddit you can get right to the point and leave any filler out of it. Keeping posts concise will help with user engagement.
Focus On Upvotes
Accumulating upvotes helps is another way your account establishes credibility with a subreddit community. The more upvotes you have, the more visible your posts and comments become within that subreddit therefore increasing the likelihood that your post or comment will be viewed before others. Focus on providing relevant and interesting content and your account will build credibility naturally.
Engage With The Community
Make sure you're engaging with subreddits and posts that are specific to your audiences' interests. If a user poses a banking related question to the community, chime in! Reddit users have a keen perception on what is credible and what's not. So as long as you're providing relevant and accurate information Redditors will be on your side and more likely to engage with your content. Engaging with the community and offering useful insights will help boost your credibility within the community.
Redditors are clever so make sure not to be overly promotional or brand focused – this can come off pushy and unsavory and users don't particularly like that. Review the rules and etiquette of the subreddit to ensure that you are within the community guidelines when submitting posts and comments. Violating community guidelines could get your posts or comments flagged or removed – even more troublesome, it could get your account banned from a subreddit all together.
Be Authentic
Redditors will quickly pick up on the fact that they're being marketed to if they feel something comes across too pushy. The key to being successful on Reddit is genuine and authentic engagement. Users want you to explain to them the mortgage loan process without any mention of your bank name or products. Reddit is about sharing information and helping other users; blatant self-promotion is not the way to go here.
Redditors value authenticity and take notice of when brands and businesses make an effort to engage with them on their level. Community banks are already local, personalized establishments that have a more approachable and non-intimidating atmosphere than big name national banks. Create the same local, personalized feeling with your Reddit presence. Stay away from heavy financial-jargon and brand-specific bank products in your content. Be empathetic to users in unfavorable financial situations who asking for help, be a digital-shoulder to lean on by providing helpful and understandable advice. By being a helper and not a seller, you'll gain trust from the community and be viewed as a valuable resource on financial and banking matters.
Reddit Tools for Bank Marketers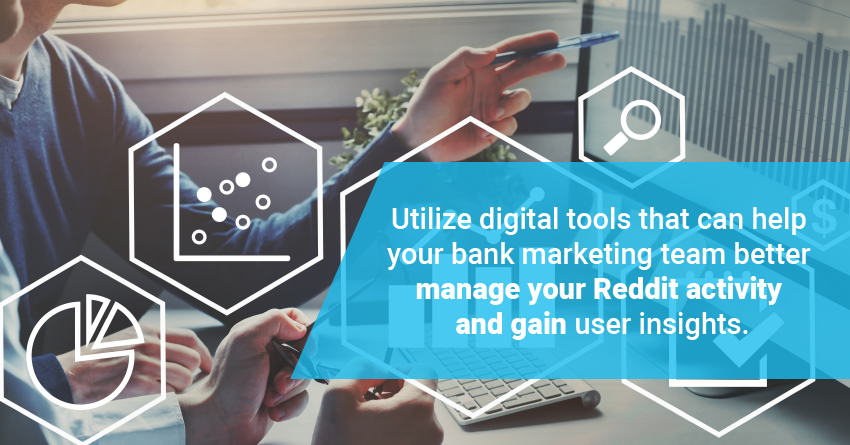 These are a few Reddit tools that can be useful to bank marketers:
Reddit Enhancement Suite (RES)
A browser extension with various features for Reddit browsing. Features include the ability to filter content, block content, subscribe to individual Reddit threads, never-ending page loads, and more.
Reddit Insight
A tool that helps visualize and analyze accounts, posts, keywords and subreddits. You can see when users gained Karma, and when posts received votes. Additional features include word clouds and topic cluster charts.
Reddit Later
A post scheduling tool that allows multi-account management, automatic scheduling based on optimal positing analysis, and the ability to easily cross-post to multiple subreddits.
Popular Banking and Finance Subreddits
Final Considerations
Now that you've gotten a lesson on getting your community bank started on Reddit, you can begin to incorporate it into your bank's digital marketing strategy! Reddit is a versatile tool that will help local bank marketing teams engage with target audiences, increase bank awareness and visibility, gather audience insights, and conduct keyword research.
Remember that patience is key! It's easy to feel overwhelmed when diving into a new platform or marketing tool, especially one as large and as complex as Reddit. With the tips and info provided in this guide you'll be able to successfully navigate through the beginning stages of getting your community bank started on Reddit!