Is your bank ready to meet the challenges and demands of the digital revolution? Only two in five millennials believe bank branches are "essential" to their financial lives. The "digital native" generations that follow millennials are even less likely to value the traditional retail banking model. Instead, consumers of all age groups increasingly crave a "multi-channel" experience. This doesn't mean the end of bank branches as we know them, but it does require a strong digital presence to complement and support physical bank locations.
For example, before a homebuyer steps into your branch to sign the mortgage paperwork, she probably started the customer journey online. From researching different types of mortgages to comparing interest rates,  the more our prospective homebuyercan do online, the better.
If you don't believe in the power of the digital customer journey, check out these insights from McKinsey & Company: "leading banks know that digital must be extended to the overall client experience" because "customers are increasingly able to compare service among banks, especially by contrasting their experience in the most important customer 'journeys'–the process of opening an account…or obtaining a mortgage."
Of course, a customer might also talk to a mortgage lender while at the branch to deposit a check. Then he goes home and researches his loan options on your website, reads a local home buying guide on your blog, and finally clicks the "Apply Online" button to formally begin the mortgage application process. The overall point is that you need to meet your customers where they are, which is everywhere, 24/7. Investing in your website (aka your 24/7 bank branch) should be a key part of your customer acquisition strategy.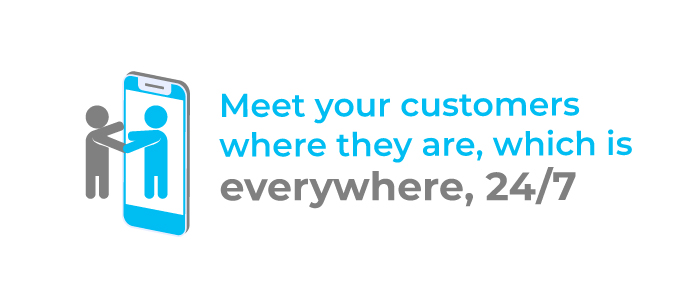 Should You Invest in Physical or Digital? Comparing the Costs of Building a New Branch vs. Your Website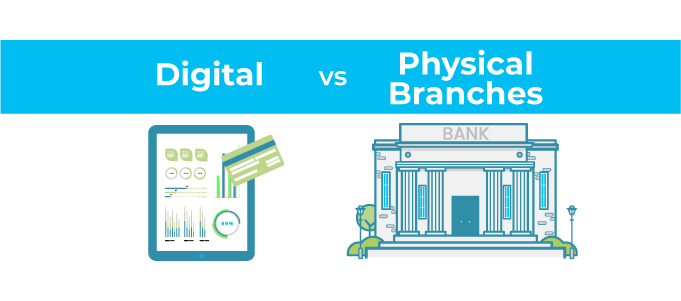 For decades, new branch openings have been the foundation of banks' customer acquisition strategy. This still makes sense in some markets. For example, in 2019 J.P. Morgan Chase decided to open branches in nine new markets across the country while also closing redundant and underperforming branches.
However, community banks may have more to gain from investing in their online presence than opening new physical branches. According to a 2016 branch survey from Bancology, the cost of land alone for building a new branch ranges from $300,000 to $2 million depending on regional real estate values. Add to that the average construction cost of $1.5 million for a freestanding branch and you can see that a new branch requires an investment of millions of dollars just to buy the land and build it, not to mention the operating costs associated with staff, equipment, and utilities.
In contrast, investing in your 24/7 digital bank branch is significantly less expensive overall. Typical services and costs include:
Website Design and Development: Should be refreshed at least every 2-3 years. You can expect to spend $5,000 on the low end for a templated website to $50,000 or more for a high-end, custom-built site. Design proposals for a typical community bank website are likely to be closer to $25,000.
Website Maintenance Contract: Keeps your site up-to-date and secure, typically costing several hundred dollars/month.
Website Hosting: Also costs a few hundred dollars/month.
Search Engine Optimization (SEO): Average costs for SEO services, which help bring traffic and prospective leads to your website, typically range from $2,500-$5,000/month.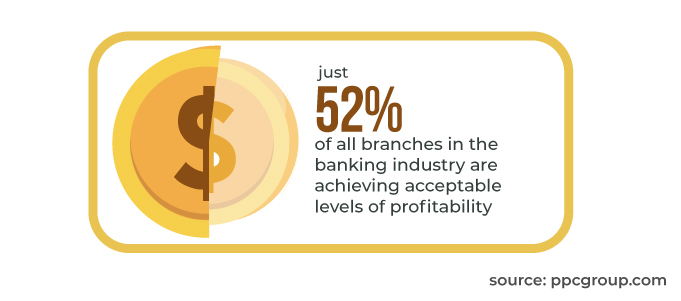 Seasoned retail bankers may be skeptical about the return on investment in their bank's website. But opening a new branch is no longer a guaranteed investment either. In 2018, Peak Performance Consulting Group published data showing that "just slightly more than half (52 percent) of all branches in the banking industry are achieving acceptable levels of profitability." In fact, "over one quarter [of bank branches] are below breakeven." The most sobering statistic is that "half of the branches that are unprofitable today will never cross the breakeven threshold; they will forever be a drain on resources."
It may be easier to quantify the profitability of a physical branch location, but that doesn't mean you should underestimate the value of your bank website and the traffic you can bring in after investing in digital. As you can see from the list above, building and investing in your website as a 24/7 digital branch won't even cost $100,000/year at the higher end of the price range. And online marketing results can be tracked with website lead forms and applications, trackable phone numbers and URLs, quantifying clicks for local branch directions, and using applications and incentives that can only be redeemed within a certain branch.
One simple way to calculate the return on investment in your bank's website is to benchmark your current traffic and lead generation numbers and compare those figures to the increase in traffic and leads after your website redesign and/or commencement of digital marketing services.
The bottom line is that customers want multichannel access to their bank as well as convenient, transparent, and personalized service. As Charles Darwin wrote in The Origin of Species, "It is not the strongest species that survive, nor the most intelligent, but the ones most responsive to change." You can substitute 'banks' for 'species' to get the perfect advice for the 21st century.
As Mobile Transactions Rise, Branch Foot Traffic is Declining.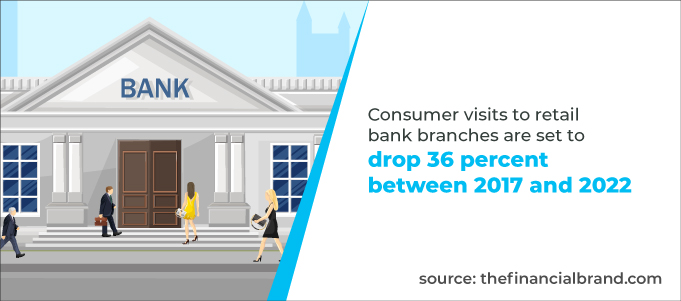 We've compared the cost of opening a new physical branch with the cost of building and maintaining a website. But cost isn't the only factor in banks' decision-making over what to invest in. Let's look at another reason to invest in your digital branch: people are doing more online and visiting their bank in person less often.
"Consumer visits to retail bank branches are set to drop 36 percent between 2017 and 2022, with mobile transactions rising 121 percent in the same period…the typical consumer will visit a bank branch just four times a year by 2022." (Check out these tips on how to promote your mobile banking app.)
There is a disconnect between the continued high cost of retail banking at a time when physical branches are becoming so much less important for acquisition. Just look at the rise in digital banks like Chime, N26, Ally, and Simple that take deposits without branches, and online lenders like Rocket Mortgage, Better, and SoFi that write mortgage and personal loans without branches. To adapt, community banks need to invest in digitizing their own customer journeys.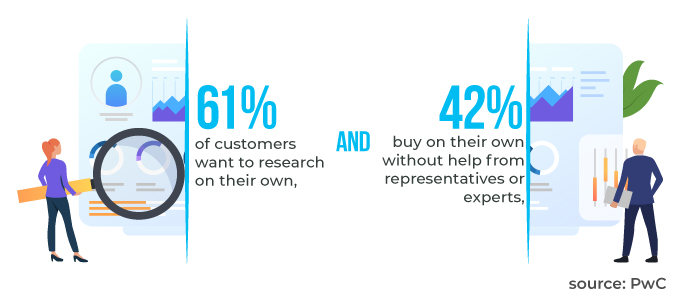 For example, "61 percent of customers want to research on their own, and 42 percent buy on their own without help from representatives or experts," according to a recent report from PwC titled "Retail Banking 2020: Evolution or Revolution?" This means that your bank's website should have plenty of useful information, FAQs, and how-to guides about the various financial products you offer. You should also provide online applications for deposit accounts and loans. If you're not doing these things, you're missing out on important customer acquisition opportunities.
In fact, your customers and local prospects may not even make it to your website if you don't first show up in their mobile search results. Think With Google describes the "four key moments to be there" for customers as:
I-want-to-know: This is the exploration and research phase, which more than half of customers want to do on their own, digitally. When your prospects conduct searches for things like "how to get a mortgage" or "best savings accounts," will they be able to find you on page one of the search results? According to Google, "90 percent of smartphone users are not absolutely certain of the specific brand they want…when they begin looking for information online."
I-want-to-go: This one is fairly simple⸺think of someone searching for "banks near me," "mortgage lenders near me," or "ATMs near me." Will they find your bank when they're looking for local products and services that you offer? According to Google, "'Near me' searches have grown 2x in the past year and 82 percent of smartphone users say they use search to find a local business."
I-want-to-buy: In the context of banking, this translates to I-want-to-open or I-want-to-apply moments. When someone in your local market is ready to open a new checking account or apply for a personal loan, you want to be there with the information they need to complete the process.
I-want-to-do: The fourth key moment is when people need help doing something. For example, a first-time homebuyer wants to figure out how to get from dreamer to homeowner. Be there with content that educates and offers practical how-tos, such as a comprehensive home buying guide.
In short, "when every aspect of banking can be done online, a bank's target market and competitive arena are no longer defined by its physical footprint, but by its technology, regulatory boundaries, and marketing budget." For community banks, the website can be your most powerful customer acquisition tool. It gives existing clients as well as prospects 24/7 access to your products, account and loan applications, and educational resources. With a significantly lower cost investment than a new branch, you can give consumers the multi- channel experience they want, answering their questions and moving them along on the customer journey toward a purchase decision.
Market Your Website so Prospects Will Find You
Now that you understand the value of your website/digital branch, the next step is to invest in marketing your website so that your ideal prospects can find you. As we said in the beginning of this article, your retail branches are better supported by a robust online presence. With digital marketing you can attract new prospects, educate them, nurture them, and introduce them to your local physical branches.
You can also bring customers back to branches with follow-up marketing, capture online reviews of in-branch experience, and promote in-branch events, etc. Overall, digital marketing will accelerate the amount of highly qualified traffic to your website with precision targeting.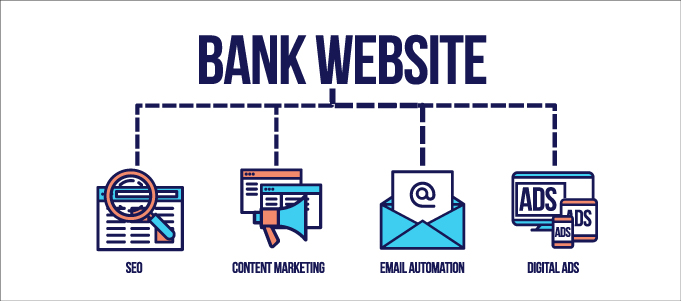 Beyond the Website: Establishing Your Presence on Social Media
In addition to building a strong digital branch, banks need to direct some of their customer acquisition efforts to social media sites and local listings.
"By 2020, social media will be the primary medium to connect, engage, inform and understand your customers."
This quote from PwC's "Retail Banking 2020: Evolution or Revolution?" highlights the importance of maintaining a digital presence on social media as well as your website.
Another powerful statistic: the average consumer now spends more than 2 hours/day on social media sites, amounting to a third of the total time spent online. So if you still have doubts about the importance of a strong social media presence, it's time to relinquish them. You need to engage your customers and prospects on their favorite social media sites. Here's how to get started:
Listen first.
Before you jump into the world of social media, spend some time listening to customers and prospects talk about you and your competitors on social media platforms. For example, searching for @BankofAmerica on Twitter returns a variety of tweets, including one that should be very encouraging to local banks.

This tweet presents what is called a "social selling opportunity." A disgruntled BofA customer wants to switch to a local bank or credit union in Santa Cruz. If that's your market and you already have a Twitter profile, you could reply to her tweet or send a direct message with a friendly greeting and a link to your switch kit.
Listening to your customers on social media also gives you a chance to resolve issues before the customer leaves your bank. Think of social media not just as a marketing opportunity but also a customer service platform. For example, a dissatisfied customer leaves this comment on a Facebook post advertising BofA's travel rewards card:

Immediately, a BofA representative responds to the comment with an invitation to connect directly so the issue can be resolved:

Let your customers be your best marketers.
Facebook pages also allow customers to rate and review your bank. Encourage people to share positive experiences like this one: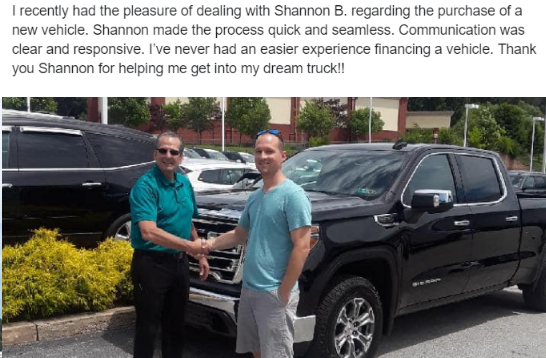 Customer testimonials are a free and highly effective marketing tactic. Research shows that many consumers choose brands based on recommendations and good experiences, not special rates or products. And one in four people share their experiences with banks and other companies on social media, making it essential for banks to monitor their social media exposure.
Follow these general guidelines for social media posts.
Don't post too often–prioritize quality over quantity.
Follow a calendar with dates for fun holidays like "National Sibling Day" as well as your own seasonal marketing priorities.
Own up to your mistakes and apologize when appropriate.
People love to see the human side of businesses–share a behind-the-scenes look.
Take turns shining the spotlight on different employees, from personal bankers and lenders to tellers. This also highlights the human side of your bank.
Be funny when you can.
Make sure your Calls to Action (CTAs) are mobile friendly. Whether it's clicking, purchasing, or sharing, make it easy for people to take the next step on their mobile device.
You don't have to be on every platform.
Claim your profiles on all platforms, but only focus your attention on a few platforms you can consistently engage with.
From our experience working with local banks, we always suggest paying special attention to LinkedIn. While this platform may not be as popular as Facebook, it's an important place to build your brand footprint and target the entrepreneurs and small business owners who could benefit from your business banking products and services. Encourage your employees to create LinkedIn profiles and share your content. Like Twitter, LinkedIn is a great place to share your own blog posts as well as news and insights relating to your industry. For more ideas on leveraging LinkedIn for your bank or credit union check out our LinkedIn Marketing Guide.
We'd also suggest banks consider Pinterest and YouTube as part of their social media strategy. The majority of Pinterest users (about 80 percent, according to Sprout Social) are female. So you can effectively reach women entrepreneurs and other demographics. Your Pinterest posts don't have to be anything extravagant; simply pin your images and links from blog posts and other social media posts. YouTube should also be a key part of your online presence. Just keep it short–research shows that most people stop watching after about 3 seconds. People also tend to keep the sound off when watching social media videos on a mobile device, so make sure to include subtitles.
How Are Other Banks Leveraging Social Media?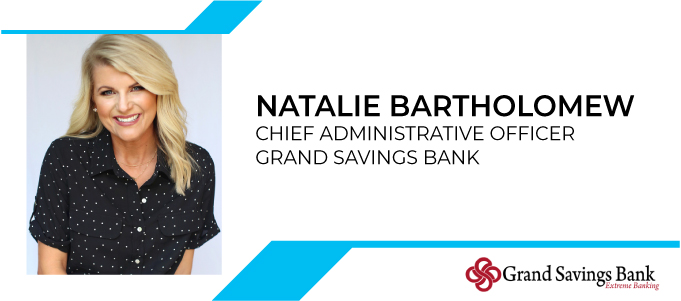 To discover more social media best practices for banks, we spoke to Natalie Bartholomew, founder of The Girl Banker blog and Chief Administrative Officer at Grand Savings Bank in Northwest Arkansas and Northeast Oklahoma. Here are her tips for banks that want to improve their social media presence:
Facebook should be your number one priority because it's highly likely that the majority of your audience will be there. Share blog links and pictures of bank employees, customers, and community events. You can use demographic data about your followers' age and gender to decide what content to push out. Facebook is also a good platform for sharing events and highlighting the local non-profits your bank is involved with.

Banks should also have a presence on Twitter, but keep in mind that it is a more news-focused site. This platform is a good place for sharing relevant articles, financial tips, and links to blog posts. Engage with your team on Twitter if they use it.

Instagram is Natalie's personal favorite, but she cautions that banks should know how to use it appropriately. From looking at your grid as a whole to understanding captions, hashtags, and how to use IG stories, Instagram can be a fun and creative platform once you know the ropes. Just keep it picture-focused and don't be repetitive by posting the same content on Facebook and Instagram.

As for the rest, Natalie says Snapchat takes a lot of time and effort, and banks aren't necessarily missing out by avoiding it. LinkedIn can be low-maintenance as long as you put up a nice, clean profile and update it with some regularity. And YouTube should be on the horizon for a strategic plan.

As far as advice on what to post, Natalie recommends focusing on people, community, and what happens there. Posts about banking products are less likely to draw a following. Also, try to be creative with photos–don't just post a snapshot of bank employees sitting behind a table of flyers at a charitable event. You want to show that your bank is community-oriented and has fun people working there.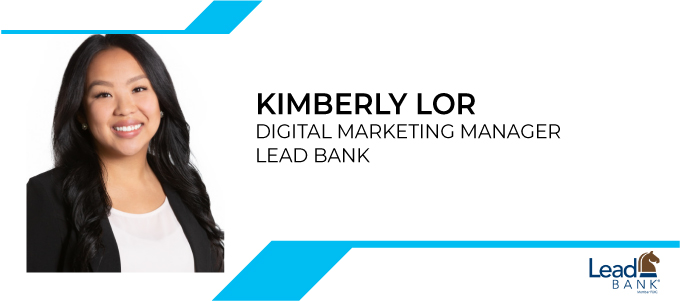 Next up, we spoke with Kimberly Lor, Digital Marketing Manager at Lead Bank. Here are her social media tips for banks:
Tell your story. There are hundreds of banks and credit unions all over the world that offer checking accounts, competitive rates, and mobile banking – the list goes on. But to be able to tell your story to someone who happens to come across your Bank's Instagram or Twitter or whichever social platforms, is what will capture that follow or like – which could possibly lead to a new customer.

The way I've utilized Lead Bank's social media platforms from the very beginning is to share what our mission is and how we continue to fulfill it every day. I share what our bankers are up to, what organizations we support, and use it to shine a spotlight on the community and our clients. You will rarely find product/rates promotions on our social pages. Lead Bank's mission is to be at the heart of the success of our communities and if I get the opportunity to even just simply share an organization's event to support their cause on Lead Bank's pages, I jump on it because that share goes a long way. A simple like, comment, and share can really make a difference for that organization and for us.

Engaging with a post or an organization's social page spreads good content and gets the post in front of more viewers, but what I like to geek out on are the analytics and insights behind that. Behind each business social media page are insights that give you the data on how your page and content are performing. When I joined the Lead Bank team our Facebook had a benchmark engagement rate of 3.56% and to date, we are at 13.12%. I've been able to also grow the followers and engagement rates on our Instagram, Twitter, and LinkedIn pages organically. It does take time when you do most of it organically, meaning zero paid promotions and ads, but very worth the time put into it.

To help manage our Facebook, Twitter, Instagram, and LinkedIn pages, I use a platform called Hootsuite. Hootsuite organizes all our social platforms into one dashboard. I can schedule out posts weeks ahead and have the posts sent out quickly all at once. It's been an incredibly helpful tool especially when it comes to organizing the social content for the month. In addition to this, a strategy I've found useful is to take the time every month to create a social media calendar to generate content and plan around upcoming events and important dates. This keeps your social feeds ongoing and alive. Lastly, it's vital to keep track of how your pages are performing and to utilize those insights to know what type of content your followers enjoy and engage more with. By doing so, I've learned our followers engage the most with the posts about our Bankers and what we are doing in the community. I believe this is because people can somehow relate and when they see a Banker they have spoken to or worked with, there is that emotional connection. I also report and keep track of Lead Bank's KPI's (key performance indicators) which include number of followers, organic impressions, organic engagements, engagement rates, and number of posts for each social platform monthly and that helps me set goals for the next month and year.
When asked about what banks should avoid when it comes to social media, Kimberly responded with this advice:
Besides avoiding regulatory violations, my advice would be to avoid sharing too much content within one day. I typically like to post 1-3 posts for each platform. Too much content can overwhelm followers, but with the help of managing a social media calendar that's easy to avoid!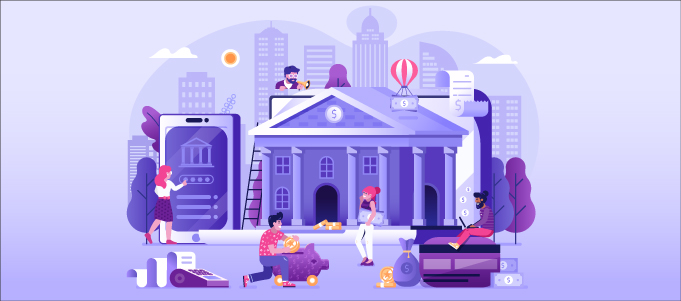 Need Help with your Digital Bank Branch?
If you're like most of the financial professionals we talk to, your to-do list is already longer than your capacity to check things off it. BankBound's singular focus on digital marketing for financial institutions makes us the perfect partner for banks and credit unions looking to improve their website and build a successful online presence. Contact us today to discuss your website and learn how we can help you increase its value.