Bank marketing is messy, isn't it? Let's make sense of your financial institution's approach to digital marketing by laying a firm foundation and execution plan.
Building a Digital Marketing Foundation for Your Bank
Ready to get started? Wait, how about the rest of your bank's leadership? Before you create a brilliant plan you might want to start with earning buy-in from the top. There are a lot of compelling reasons to invest in digital marketing, but we all know the best plans often look a little different after returning from the boardroom!
Now that you've received the green light from your bank's leadership team, let's get started on your digital strategy for real this time! Regardless of whether your financial institution has a dedicated team focused on digital, or just a part-time intern, it's a good idea to take stock of what your current marketing "situation" is.
Oftentimes, improving marketing ROI isn't about what you should be doing, but rather what you should stop doing. We all know of "other" community banks and credit unions that have invested many a marketing dollar into channels, vendors, and people without any real means of measuring success. As Peter Drucker once famously said, "If you can't measure it, you can't improve it."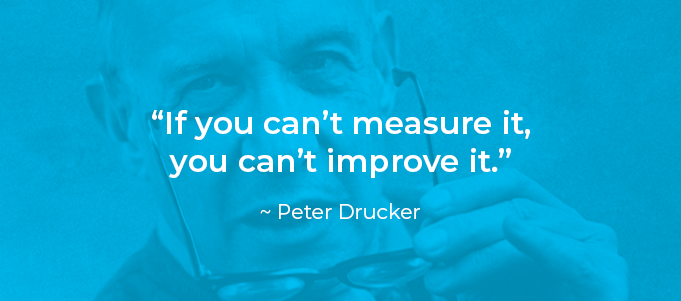 While you can't completely discount marketing channels that are difficult to measure, it's worth thinking through the true impact of marketing tactics like sponsorships, billboards, radio, television, and newspaper ads. We've all seen plenty of sales propaganda from the aggressive sales representatives behind these mediums, but try to scrutinize their actual impact on your bank given the cost.
What's the antidote to unmeasurable marketing? Digital! It's much more straightforward to substantiate your existence as a financial marketer when you can demonstrate ROI using actual data.
It's also true that many traditional marketing channels can be integrated with digital in order to provide more measurable data. Not everyone who sees a billboard or hears a radio ad will go to your website of course, but the more you can do to leverage your 24/7 branch as your marketing headquarters, the better (for both analytics and ongoing marketing efforts).
That being said, if you haven't yet moved website analytics to the top of your todo list, it's time to rearrange your priorities. Google provides two free tools that are immensely powerful for measuring marketing performance: Google Analytics and Google Tag Manager.
The challenge with these two analytics platforms is not so much what they can track, but rather the overwhelming amount of data they produce. There's so much data, how can your financial institution make sense of it all?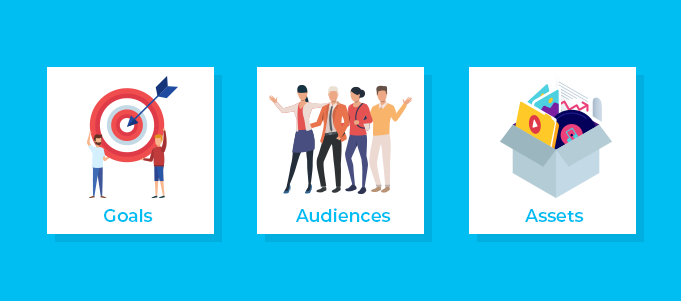 Goals
With so much amazing data available from your website and the marketing campaigns directing people to the website, it's crucial to establish success criteria so you can track performance and make adjustments. The combination of leading indicators and key performance indicators (KPIs) can be an effective system of measuring the performance of your banks' digital marketing efforts.
Leading indicators might include:
Organic visibility of various website pages or Google Maps listings in Google search engine results
Website visits by channel (e.g. organic, social, paid, referral sources), or user type (e.g new vs returning users)
Visitor engagement (time on site, pages per session, etc.)
KPIs might include:
Cost per lead (via website forms, emails, or phone numbers)
Cost per acquisition (via online applications)
Cost per branch visit (via clicks for driving directions or Google Store Visits conversions)
Defining success criteria and benchmarking performance is so crucial because it allows you to allocate resources into the highest performing marketing channels and campaigns. It also allows your marketing department to position itself as a profit center instead of a cost center.
Target Audience
So you know what actions are key to successful digital marketing performance, but who do you want taking those actions? In defining the ideal audiences you want to engage, there's lots of tools and tactics to identify the most relevant ages, interests, demographics, and behaviors of your best prospects. It's important to think through these target audiences; especially the pain that your products and services solve for them.
Your financial institution likely has a number of obvious target audiences, but with so many competitors likely chasing the same prospects, it's also worth thinking through what niche you can uniquely serve well. Targeting niche audiences with relevant marketing will generate greater response rates, and you'll likely have fewer direct competitors.
Not sure what niche your FI can best serve? Talk to different teams, lenders, and branch managers and see what comes back. Yes, many people will likely say something along the lines of "we serve the farming community especially well." Dig deeper! Agribusiness is a good start, but discovering that your bank works with a lot of peanut farmers is even better. For a few additional ideas check out Live Oak Bank for the nichest of lending niches: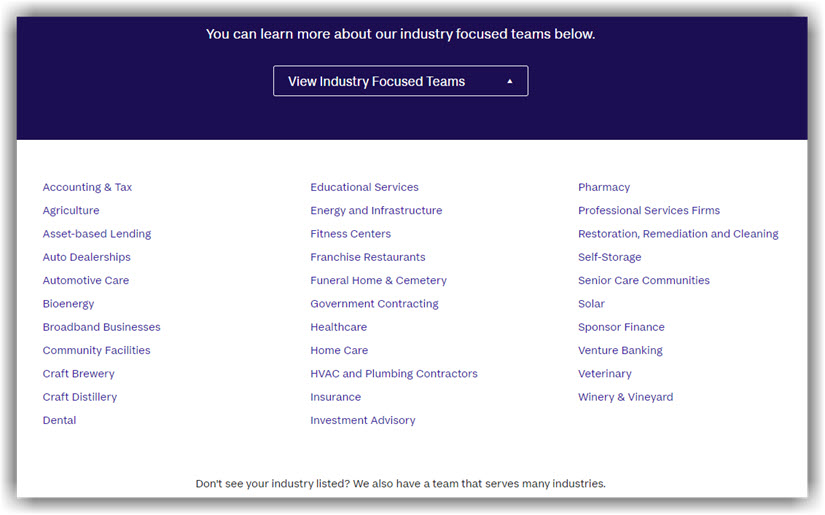 Take Stock of your Digital Assets
It's one thing to have a defined audience, KPIs, and excitement around marketing your financial institution; but what will you actually use to market your bank's amazing products and services?
For starters, start at the beginning. Your bank's mission, vision, and values should be at the core of all you do. You might also consider starting a brand identity document or creating a positioning statement to help refine your messaging. Besides great service, what actually makes your FI unique from your competitors?
Using these foundational guidelines, gather up and catalog all of the existing media you have from billboards, radio, print, ads, customer communications, and various digital channels. This process of sorting through all the bits and pieces of previous marketing efforts from internal teams and external vendors can be extremely helpful. You'll likely uncover some great ideas, lots of bad ones, and also identify the sort of assets that you're still in need of to reach your target audiences using digital channels.
Executing Your Bank's Digital Marketing Strategy
Who is going to make the marketing magic happen? We don't typically hear a lot of complaining from bank marketers about how much free time they have, so it's important to have a plan for getting things done! Let's prioritize, equip, and delegate.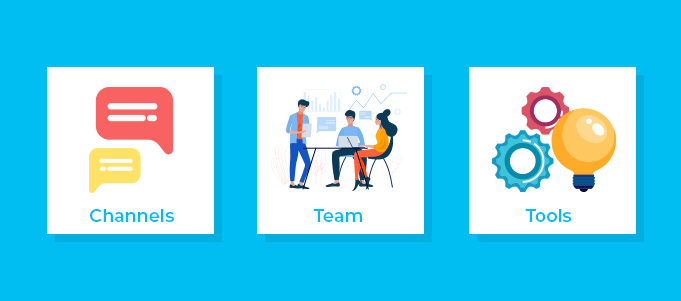 What's the right marketing department structure for a bank or credit union? In order to effectively support a comprehensive digital marketing strategy, you'll need the following expertise from your marketing team: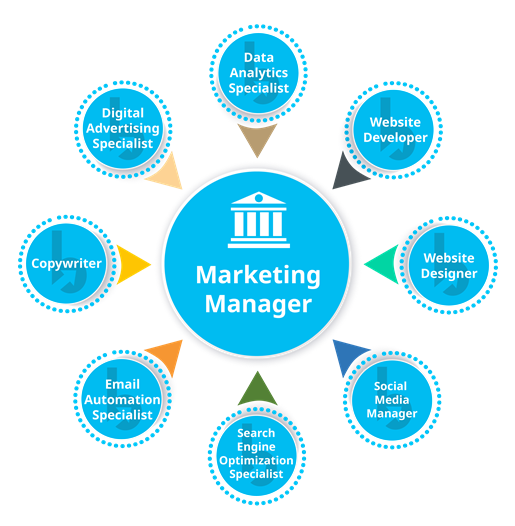 Data analytics
Digital advertising management
Copywriting
Email marketing and automation
Search engine optimization (SEO)
Social media management
Website design
Website development
Channels
How are you going to reach your target audience with your relevant bank marketing? With digital marketing, there are a lot of options that typically fall into 2 buckets:
Always-on Digital Marketing (tactics that should be ongoing)
Digital Marketing Campaigns (tactics that can support specific promotions)

Display/Social Ads – Image and video ads can cost-effectively generate a lot of visibility for new branch openings, special rate offers, local events, and other one-off promotions.
Email – with great data comes great opportunity.
SMS/text – proceed with caution, but you can expect extremely high visibility as most everyone who receives a text from your bank will read it.
Digital Radio – a more measurable alternative to terrestrial radio.
Which channels are right for your financial institution? This depends on a lot of variables, especially your marketing goals and budget. We're always happy to talk through specific recommendations, but we'd suggest starting with a comparison of required investment versus potential impact: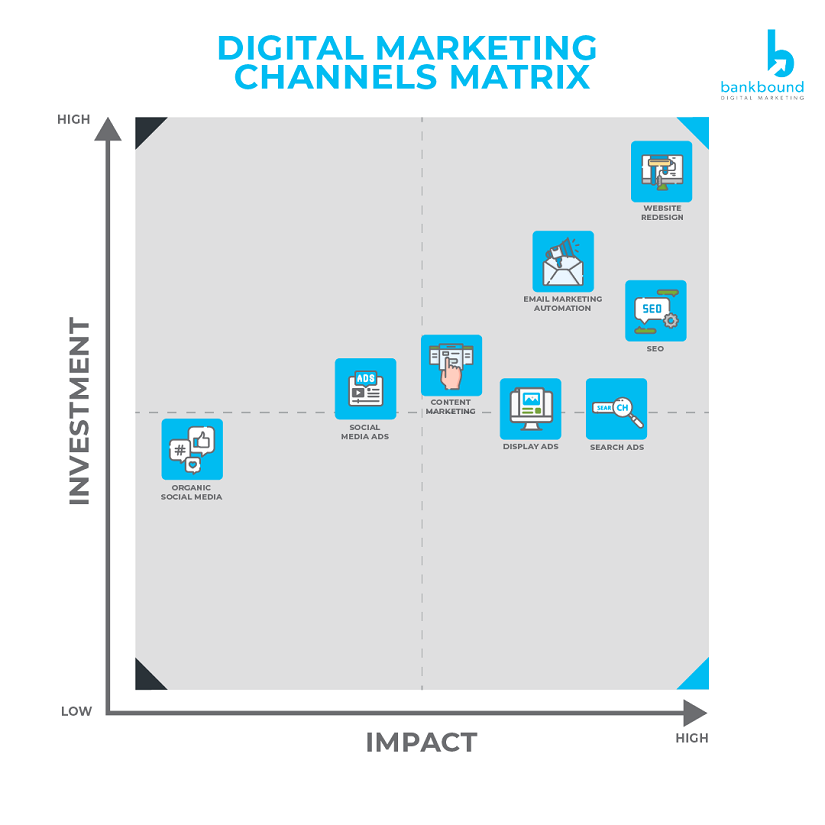 It's also true that some digital marketing channels are better than others for supporting specific goals. The following chart highlights the marketing channels we'd typically suggest based on the following strategic marketing goals: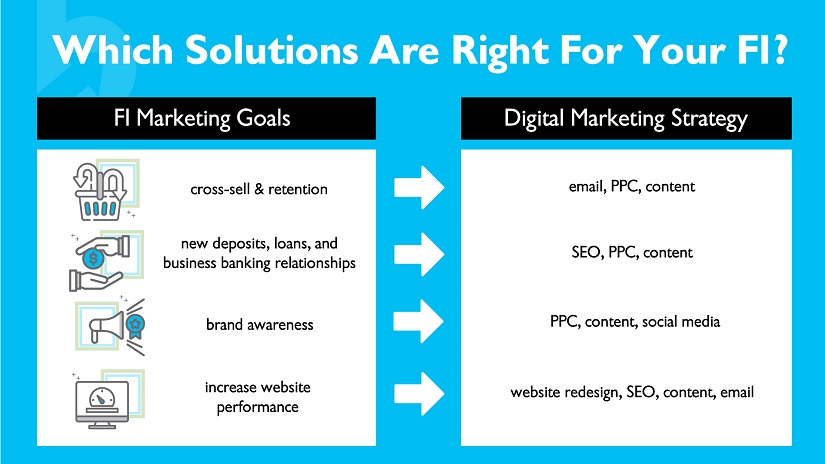 Team
Can you get all of the marketing channels above from a single "digital marketing manager?" No, and you definitely shouldn't hire someone who claims they can do it all (well).
Given all of the skills needed to execute a digital marketing strategy, it's important to understand what your team can do internally and what makes better sense to outsource. That being said, we would not suggest outsourcing digital marketing without designating an internal champion who can keep your vendor(s) accountable. While there are plenty of great digital marketing agencies out there, there is a big difference between agencies that are proactive partners and those agencies that are available when needed. Read more about what to outsource and how to choose the right agency here.
Tools
Digital marketing is not a set-it-and-forget-it strategy. It's important to constantly review the data to understand what's not working so you can make adjustments or reallocate resource to what is. Thankfully, there are a lot of fantastic digital marketing tools out there to help! Depending on what you decide to keep in-house versus outsource, you'll need the following tools to support your bank's digital strategy (at a minimum):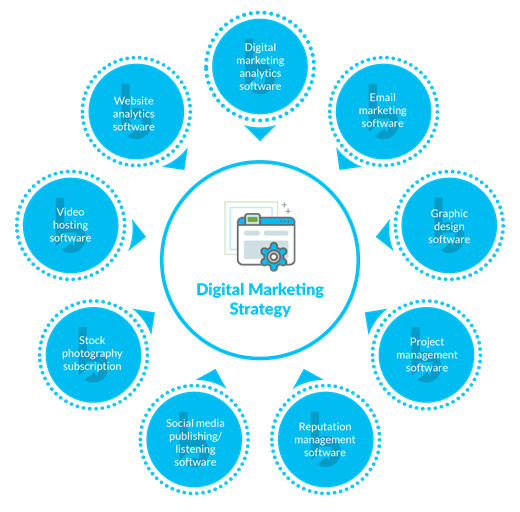 Digital marketing analytics software
Email marketing software (ideally with automation and CRM integration)
Graphic design software
Project management software
Reputation management software
Social media publishing/listening software
Stock photography subscription
Video hosting software
Website analytics software
Final Considerations
Ready to dominate the internet yet? This all can certainly be overwhelming, especially since many local banks have an army of one in their marketing department!
Remember, it all starts with a plan. With a documented plan in hand you'll be able to better assess the capacity and performance of your in-house marketing team, as well as your existing vendors. Bank marketing is a team sport, so make sure you've got the right players and they all understand the game.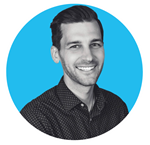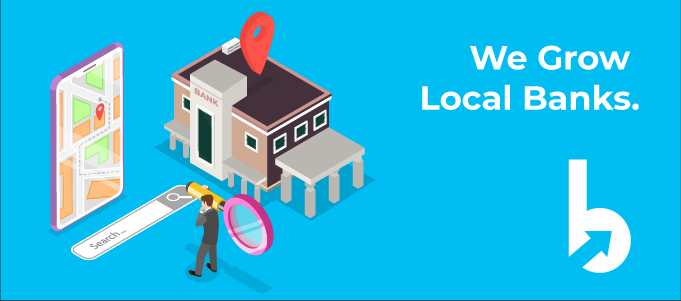 Have questions or need help? Bank marketing is all we do here at BankBound. We invite you to contact us to start a conversation about your bank's digital marketing strategy.