According to a Pew Research Survey, Millennials are America's largest demographic. The oldest millennials will soon be turning 40, so it's time for your financial institution to shift its marketing efforts for this demographic. During the next few years, you will want to change your messaging from "First-time homebuyers" to "Prepare for retirement" or "Secure your future". It's time to develop your financial advisor marketing strategies to market your wealth management products to millennials.
To win over millennials and digitally minded investors, your financial institution needs to market three things: 1) Your experienced financial advisors who are there when you need them 2) Your mobile app that makes managing finances easy and convenient 3) A way to bridge the digital and in-person investing experience.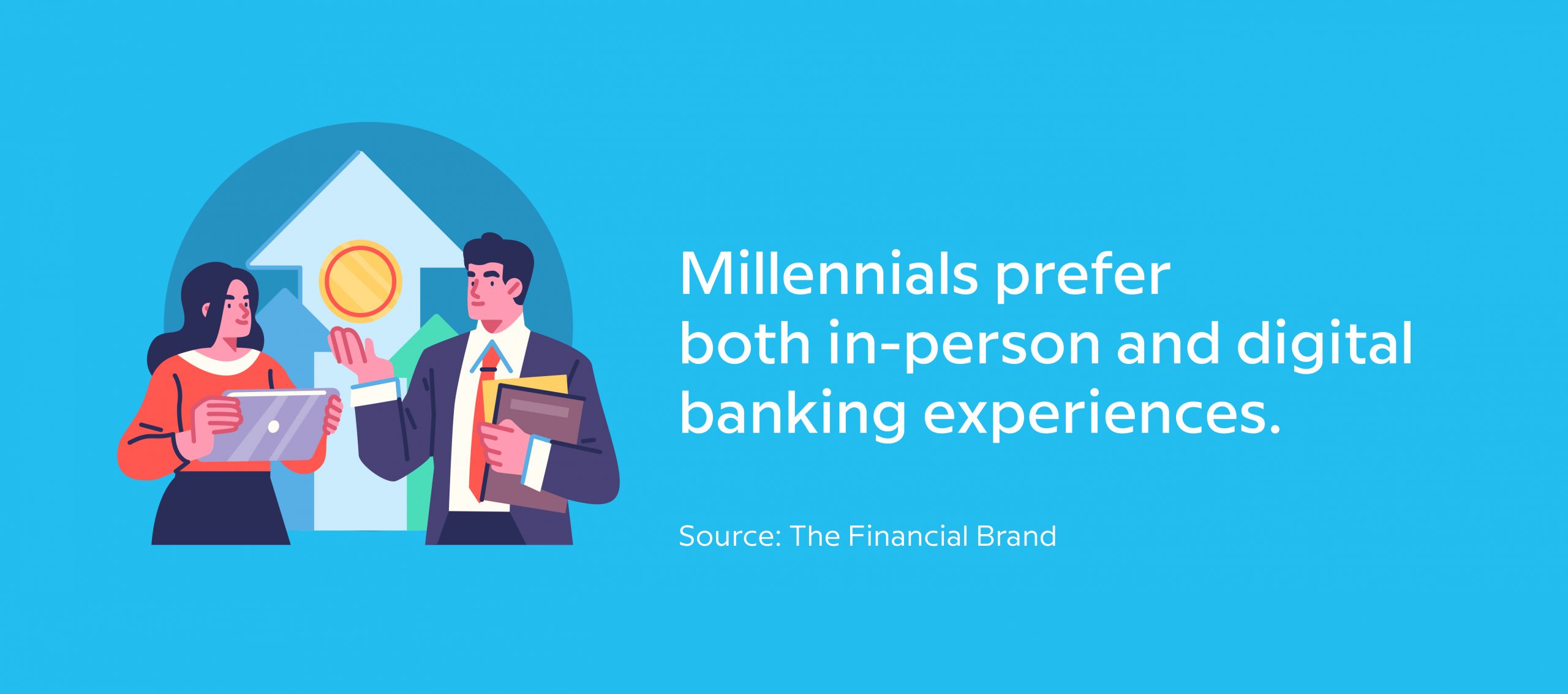 Invest in an Online Investing & Wealth Management
You know how popular your mobile banking app is with your banking customers. It's obvious that your investment clients want the same. If your FI offers investment accounts, such as Individual Retirement Accounts (IRA), Annuities, or other wealth management products, you should include access to those in your mobile app.
Millennials value speed when it comes to banking: They want faster payments with quicker transfers. They prefer mobile banking and have high expectations for the mobile experience. So, if you're trying to market your financial institution's mobile app to millennials, it has to be fast and easy to use. Make it easy to navigate and complete multiple tasks in a single session.
Why is your mobile app important for marketing financial services to millennials? Millennials are the most popular user base for the investing app, Robinhood. The core base of this app is the investor's ability to trade with no commission fee. With a company mission to level the playing field, the median age of a Robinhood investor is currently 31 (it was 28 in 2017). The platform built around ease of use, convenience, and low cost, (premium options are available) makes it successful in marketing wealth management to millennials.
Don't feel defeated by RobinHood's popularity. It will not take the place of your financial institution's wealth manager. Robinhood account holders have an average of $1,000 to $5,000 in assets per account. The Financial Brand has often reported that millennials prefer a mix of digital and traditional banking. So, It might be safe to consider that while young investors are willing to try out online trading apps, they may not be willing to put all of their eggs in one basket. One may interpret this to mean that digitally-minded investors are not willing to completely trust robo-investors with their entire life's savings.
Another key player in online investing is Charles Schwab, which gained roughly 20 million new investors under forty in 2020. Although known as an online broker, Schwab is backed by 50 years of experience in financial services.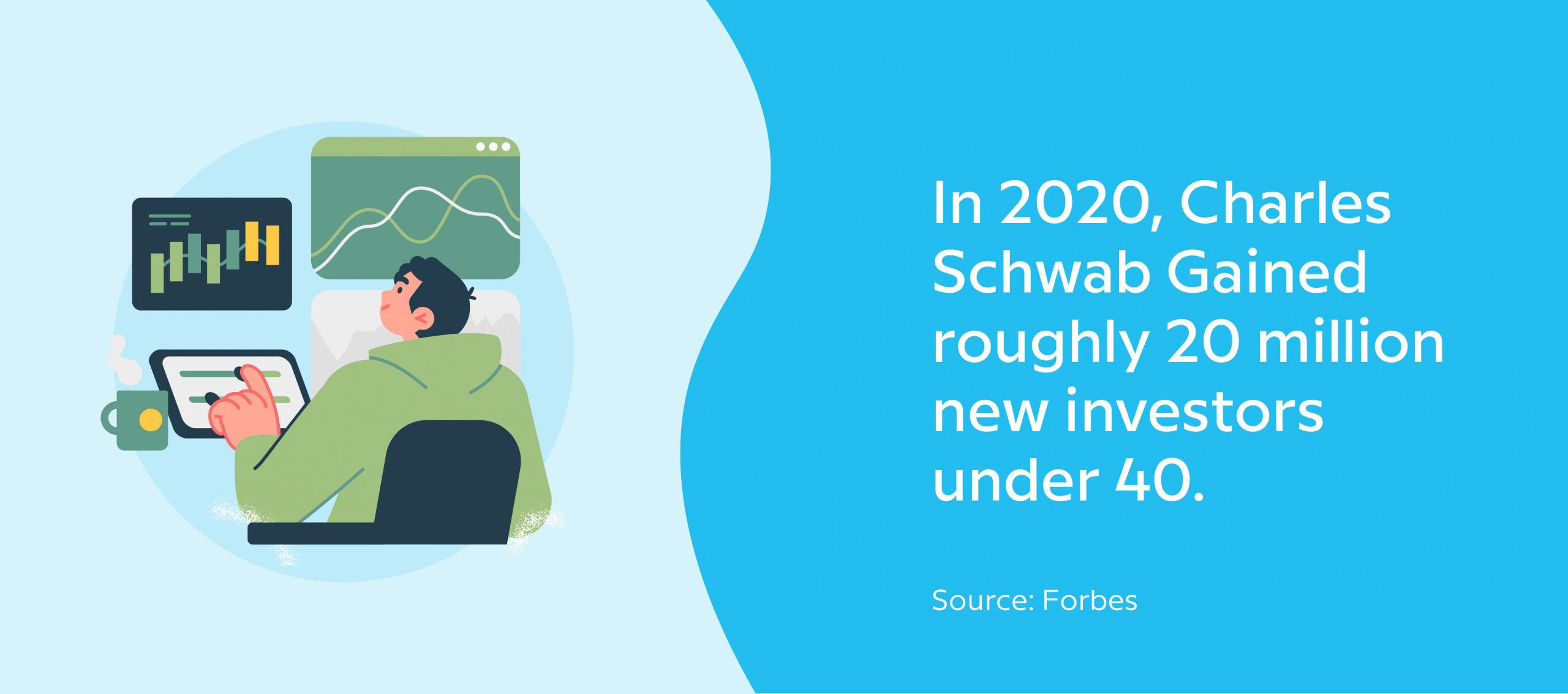 Position Financial Advisors Alongside Your App
In addition to marketing your app, you will also need to market the expertise and personalized service that clients get from your financial advisors and wealth managers.
In April 2021, JP Morgan launched a big campaign to appeal to young investors. The ad campaign includes television, video, social, audio and digital display ads. The campaign's goal is to let investors know how accessible JP Morgan's wealth management tools are.
"We know we're dealing with a perception where we're not accessible for younger investors. We want to change that," said Dipti Kachru, Chief Marketing Officer of the U.S. wealth management group.
The messaging of the JPMorgan ads is on target with the Financial Brand's assessment that millennials want an in-person and digital banking experience. The video ads show investors interacting with the JP Morgan app during their busy lifestyle, and also walking into a branch to meet with an investor. Some of the ads have the tagline: "The life you envision is our life's work."
Upgrade Your Wealth Management Experience
JP Morgan makes it easy for Chase customers to begin their investment journey. Your bank likely understands the importance of online account opening, especially when it comes to younger demographics. The Chase Credit Card app has an "Investments by J.P. Morgan" section in their Account dropdown. Here, users can get a free Investment check-up with an advisor by setting up a call for a virtual meeting or opening an account with a robo-advisor that lets you trade on your own with a $0 commission. J.P. Morgan Chase creates a seamless experience for Chase customers to become wealth management customers. Marketing financial advisory services to credit card users is also an excellent example of cross-selling financial services.
Morgan Stanley, like J.P. Morgan, is another financial services company known for its traditional way of investing. Their financial advisors have been assisting clients with their finances for 91 years. They have a robust Wealth Management app that allows clients to not only view their Morgan Stanley accounts but add external accounts (even real estate) to get an overall picture of total net worth. This app serves as a true wealth management app. To keep up with online banking demands, you can even remote deposit a check into one of your Morgan Stanley accounts.
In competition with Robin Hood and Charles Schwab, Morgan Stanley launched their Access Investing robo-advisor platform in 2017 to target millennials. This platform offers fee-free transactions, though there is an annual fee of 0.30% of assets under management which is charged monthly. Unlike Robinhood which has an average investment account balance of $5,000, Access Investing requires a minimum balance of $5,000. Access Investing users can upgrade to a full-service Morgan Stanley account to talk with an investor.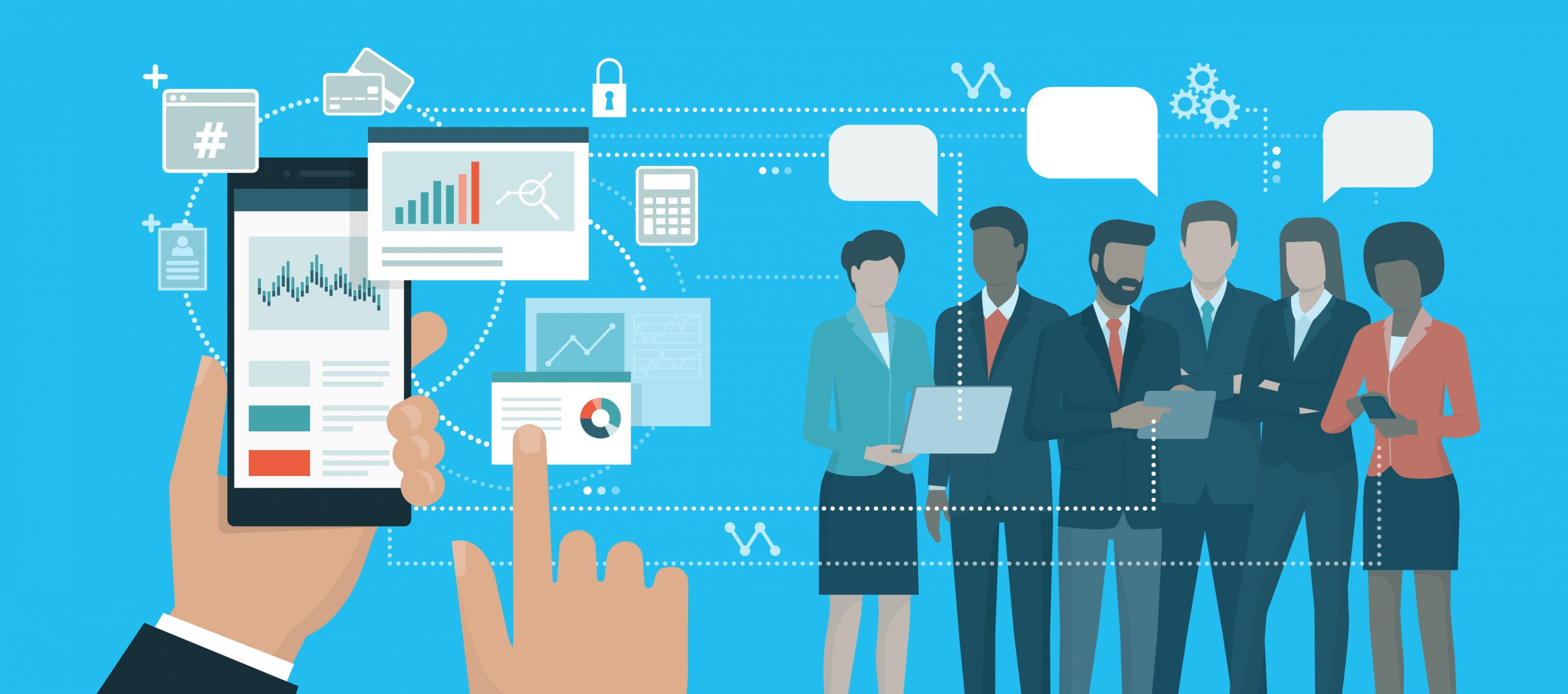 Develop A Marketing Plan For Your Financial Apps and Advisors
Traditional wealth managers are offering digital products to keep up with the demands of millennials. Fin-Techs and FIs are making wealth management easier, investing more seamless, and trading cheaper. They also make it easy for self-trading users to take the relationship a step further and talk with a financial advisor.
Digitally-minded consumers love to do as much as they can via their mobile devices, but they still prefer some level of human assistance when it comes to making banking decisions. As you develop a plan to market your financial products to millennials, keep in mind that they will value trusted wealth managers who are there to guide them, an app that makes it easy to perform some basic tasks on their own, and an overall seamless experience.
Need more help, contact a financial marketing strategist or request a digital marketing analysis today!