Brand reputation is vital to a financial institution's ability to inspire trust and improve customer retention rates. While banks and credit unions need to embrace technology to keep up with competition as modern digital capabilities take center stage, it's also important to embrace a culture that aligns with trust, stewardship, and service.
When it comes to servant leadership in finance, many people believe that the 2008 financial crisis can be traced back to a toxic culture in the financial industry. Unfortunately, while most local financial institutions didn't contribute to the economic collapse, they can get caught up in the public's perception that all banks cannot be trusted. For example, we see this with highly publicized failures, like the data breach at Capital One, that have a negative influence on consumer confidence in the financial industry.
So, how can local banks and credit unions keep their customers' trust? The answer may be a management philosophy known as servant leadership. In this article, we'll explain what servant leadership in marketing means, what it might look like, and how it can work with technological advancements in finance. Ultimately, banks that embrace cultural changes to truly serve others above themselves can lead to better customer experiences, build trust and improve their brand reputation.
The Current State of Leadership in Finance
Although the American economy has bounced back from the Great Recession, consumer confidence and trust in bank leadership is still low. The prevalence of social media–where anyone can air complaints or mistakes–certainly doesn't help. And scandals like Wells Fargo's fraudulent cross-selling reinforce the idea that leadership in the financial industry is only interested in accumulating power and making as much money as possible–whatever the cost to the everyday customer. However, practicing servant leadership is one way you can help distinguish your local bank or credit union from the "megabanks" that tend to drive negative public opinion.
What is Servant Leadership in Finance?
"Servant leadership is a non-traditional leadership philosophy, embedded in a set of behaviors and practices that place the primary emphasis on the well-being of those being served." That's according to the Center For Servant Leadership, founded by Robert K. Greenleaf. Greenleaf first coined the term in a 1970 essay and then expanded his ideas into a 1976 book.
The philosophy of servant leadership was a response to the authoritarian leadership style that was popular at the time. Greenleaf believed that both individuals and organizations could be servant-leaders. The distinction lies in wanting to serve first, instead of being motivated by power or material acquisition.
The servant leadership approach is a natural fit for local financial institutions. You are already focused on serving your community, both by meeting their banking needs and by contributing to local charitable organizations and events. Servant leadership creates, supports, and sustains a culture of service where serving others comes first, every day. Great customer service is second nature to servant-leaders. The best customer-focused organizations have servant leadership in their DNA.
In a servant-leadership mindset, those at the top of the org chart see themselves in service to the customer as much as those who serve customers most directly. Employees who are responsible for the customer experience are empowered and allowed to be their best.
As servant-leaders, no individual or department "owns" the customer. Instead, everyone collectively acts as a steward. Customers are free to leave, but those who are well-stewarded rarely do.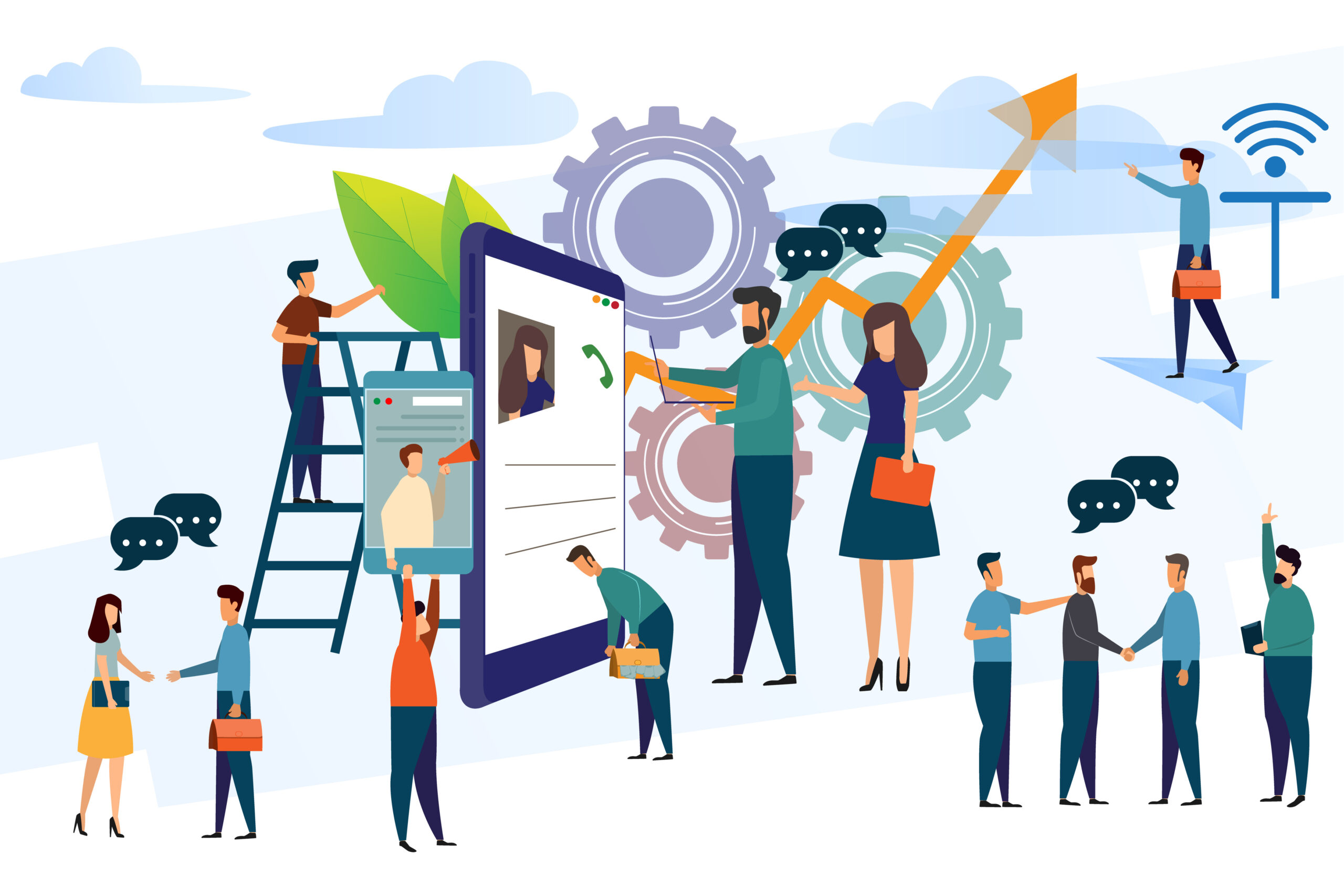 How To Apply Servant Leadership Principles To Your FI Marketing
Greenleaf outlined a number of servant leadership principles. We'll take a closer look at the primary ones and show you how servant leadership drives marketing strategy.
Principle #1
In every aspect of your marketing campaigns, you are dealing with real people, not just numbers. Look to the customers and prospects who are interacting with your marketing efforts. This will allow you to develop effective and engaging strategies.
Marketing Ideas
Use Google Analytics (4) to see what your target audience is searching for and the types of content they are most engaged with, both on your website and social media channels. For example, which educational content on your website receives the most engagement from prospective customers? (Yes, your bank needs to blog.)
Principle #2
Utilize technology to remove barriers between you and your customers. Analyzing the performance of various channels from your bank's digital marketing strategy will help you gain a deeper understanding of how your customers interact with your brand, how they respond to different types of content, and what they're experiencing throughout their buying journey. This information allows you to create effective and uplifting experiences that can inspire and delight.
Marketing Ideas
Using the analytics information you collect, create more relevant website pages, blog posts, and social media content that engages your target audience.
Principle #3
Focus on the customer advantages your bank or credit union delivers, looking beyond competitive rates.
Marketing Ideas
Is your bank located in a major agricultural area? Work with your ag lenders to identify their customers' pain points and develop content to answer those specific challenges. Ask lenders and executives to write thought leadership pieces on their areas of expertise.
Principle #4
Lift up the communities you serve. People are drawn to stories about other local people, organizations, and movements that relate to their community.
Marketing Ideas
Highlight your involvement in the community regularly on social media and with blog posts about your charitable efforts or other local engagements. Local FIs are the top small business lenders for a reason, so you could also showcase the local businesses you've helped through lending.
Partner With BankBound To Accelerate Your Digital Marketing Results
Love the idea of servant leadership in banks but not sure how to incorporate it into your existing marketing efforts? We get it–most of the financial marketers we work with have more items on their to-do lists than there are hours in the day. Contact us to learn more about how we help financial institutions better engage their customers, prospects, and community. In fact, one of our own core values as a business is "We serve others."