If you're a community bank or credit union, you probably don't have a complete in-house marketing team to design and create content for your website. Have you been trying to do it all yourself as a marketing team of one? If you're thinking about hiring a writer to write blog articles and website pages, we'll walk you through everything you need to know. Keep reading to discover where to find experienced writers, what guidelines you need to provide, and what you can expect from your new freelance writer.
Does my financial institution
really
need a professional writer?
When consumers research financial topics online, they expect to find bank websites rich with ultimate guides and other resources. If your financial institution's online presence is little more than a brochure with bullet points, you're losing out on traffic and conversion opportunities.
However, moving from brochure to 24/7 digital branch isn't as easy as posting press releases and composing the occasional blog when inspiration strikes. Building and maintaining a successful blog is challenging. It's not enough to write 500 words anymore; your customers are looking for current and useful information that answers their questions and helps them move through the purchase funnel. 
Professional writers are trained in conducting research, writing for different audiences, and incorporating SEO strategies. The best writers don't just recite information; they explain complex financial ideas for a general audience and write to readers, not at them. Empathy for readers' existing attitudes and feelings about certain topics, such as applying for a mortgage, is also important.
Now that you understand the value of hiring a professional writer for your financial institution's website, let's look at the different types of writers out there.
What are the different types of freelance writers?

Your next barrier to hiring a professional writer may be figuring out what terms to use in job postings so you get the right candidate pool. Here's what you need to know:
Web Content Writer:

These freelancers are experienced in writing for digital platforms such as websites, blogs, and social media. They should be familiar with SEO best practices and able to integrate keywords naturally into the text. A good web content writer can produce research-driven longform articles that answer your readers' questions. 
Copywriter:

These freelancers specialize in writing sales copy for advertising. They are good at collaborating with other creatives and may specialize in one or more channels such as print, TV/radio, and digital. A skilled copywriter knows how to get your readers to take action.
Content Marketers:

These jacks-of-all-trades can help with the big-picture management of your bank's blog. They can build a content strategy, plan your content calendar, research blog topics, and then write and share the content.
So, which type of professional freelance writer should you look for? Take a moment to consider your needs; for example, can you manage the content calendar and strategy yourself? Then maybe you just need a web content writer. Looking for someone to write ads for your financial institution? Consider a copywriter who can also produce blog articles as needed. Overwhelmed and want someone to handle all aspects of content marketing for you? Look for an experienced financial content marketer.

8 Tips For Finding Experienced Freelance Writers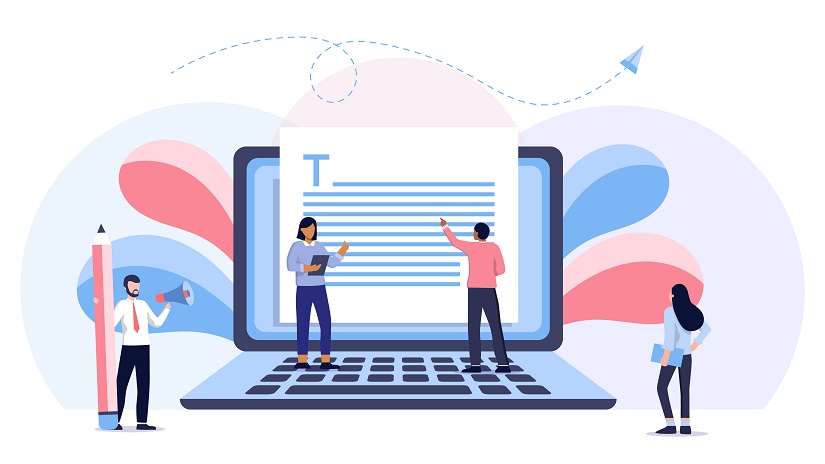 Now that you know what you're looking for, how do you go about finding the right writer?
Ask for recommendations from your fellow bank marketers at

financial marketing events

,

banking associations

, or within

online communities such as the

BankBound LinkedIn page

or the

ABA Bank Marketing Network

.

Post on a reputable job board such as

ProBlogger

.

Look for someone with experience writing in the financial space.

Avoid using cheap content mills, where the quality may not be great and you won't have the same writer consistently assigned to your project.

Ask for writing samples to review.

Specify the number of blogs per month you're looking for.

Provide details on compensation.

Take the time to interview your top candidates before making a hiring decision.

Sue Thomas, Marketing Manager, Republic Bank of Arizona, offers this advice for local banks looking to hire a freelance writer:
"From a local bank perspective, I would recommend checking with the Bank's sphere of influence such as business owners, your board of directors, and colleagues when looking to hire freelance copywriters. I think that might be the best resource to get qualified, trusted referrals that may be under the radar but very good at what they do. Like anything else, word of mouth referrals can be extremely valuable. And if you're a local bank, it demonstrates your support of the local business community by hiring locally. Depending on your budget and need, you can also reach out to local marketing agencies with copywriters on staff to help. But agency prices will most likely be a bit higher than working with a freelance copywriter."
Budget to hire a writer
When working with a professional writer, you can expect to pay per piece or per word. Decide upfront whether you will offer a standard rate or ask each writer for their rate. Remember that quality and experience cost money. You want your content to stand out in the crowd—and not for having grammatical errors. 
Create an onboarding process
To get the best results from your freelance writer, provide some sort of onboarding experience with a style guide, other marketing material, content briefs for blog assignments, and any necessary training such as for SEO. You should also read the first few blogs carefully and provide any necessary feedback.
Need help with your content marketing goals?
Finding and managing freelance writers can be time-consuming. Take the stress out of getting great copy and blog posts for your bank website—use a full-service agency like BankBound with professional, experienced writers on staff to meet all your copywriting needs. We offer a full range of digital marketing solutions including content. Contact us to learn more!