As the need for comprehensive digital banking becomes more essential, many banks are redesigning their websites to create a full digital branch experience. Online account opening, digital loan applications, live chat, and a variety of features make it easier than ever for website visitors to become customers without the need to ever set foot in a physical branch location. According to Insider Intelligence, 75% of U.S. banking customers use digital banking solutions as of 2021, and this trend is only expected to increase in the coming years.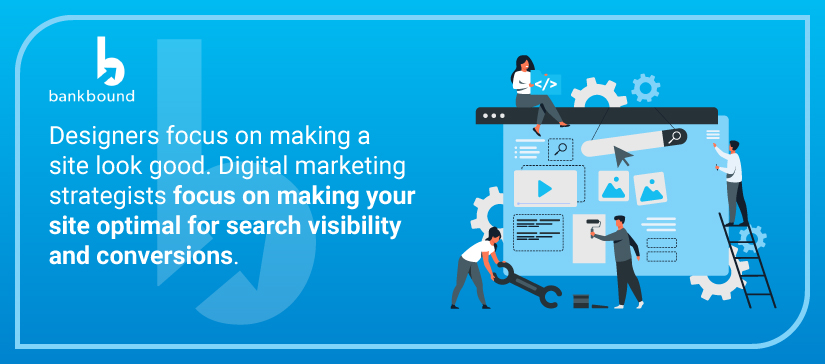 At this point, online banking portals and apps have become the norm for customers who wish to do their banking remotely, but many banks struggle to create a digital banking experience on their website that is appealing to potential new customers. To this end, many banks redesign their websites in the hopes of creating a better experience for users that will, ideally, translate into more deposit account openings and loan applications.
While website designers have become adept at crafting websites that are clean and modern, this is only a steppingstone along the path toward a robust digital presence. To fully leverage growth online, digital marketing has become an essential tool that must be directly integrated into your bank or credit union website during the design and development phase. By involving your digital marketing team in your development process, you can implement SEO, conversion optimization, content creation, and other digital strategies from the start. Read on to learn why your digital marketing team is an invaluable asset during your website development process.
How does your marketing team's role differ from your website development team?
While your development team will strive to give your bank's website a facelift while maintaining your brand identity, your digital marketing team looks beyond the design to build a positive user experience that promotes goal completions. It is their primary duty to build search engine optimization strategies directly into your new website, which will help to increase your digital footprint, increase traffic, and drive visitors to complete goals on your new site. These teams will be heavily aligned throughout the design and development process because the marketing strategies developed by one team will be implemented by the other.
Strategizing during the initial design phase
The first conversations between your financial institution, digital marketing team, and website development team are crucial. It's during this initial phase that you will be determining not only the direction of your design preferences, but the overall goals of your website as well. If you have specific goals, such as increasing certain loan applications or deposit accounts, then you should consult with both your marketing team and your development team to determine what steps will need to be taken to meet these goals.
During this phase, consult with your digital marketers to map out vital conversion points for every product. You may have multiple conversion points for a given product; for example, a page about home loans might have a link to an application, a pre-approval form, a form to contact a mortgage lender, and a phone number to your mortgage department. It's the marketing team's job to consider every avenue that your users might take to accomplish their goals and relay this information to your development team so that these goals can be implemented in an eye-catching format that drives user intent. These conversion points must be considered on every page on the site, as well as your primary and secondary navigations.
Similarly, your teams will need to work in tandem to determine your navigation hierarchy, site map, SEO elements, and much more. Your marketing strategists should identify a structure for your website that considers your marketing goals. This can be done in any number of ways, but free flowchart tools like GlooMaps can allow you to build a visual guide that can be shared amongst all of your teams to ensure that you're all on the same page. A visual map will allow you to not only identify the pages that will exist on your new website, but you can attribute meta data, content, images, goals, and more to each of the pages on the map. This way, once the pages have been developed, there will be no ambiguity about the assets that need to be placed on each page.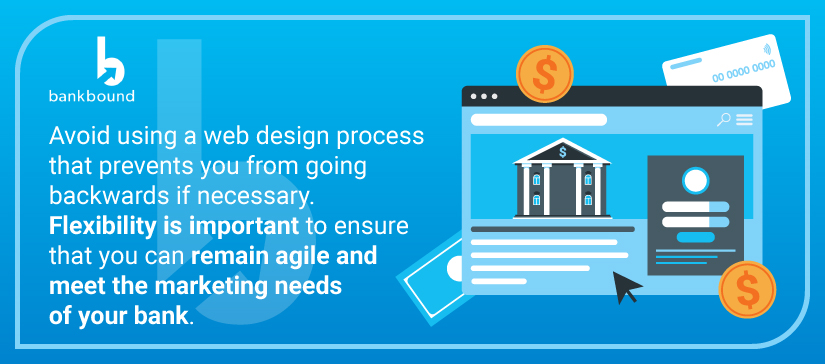 Keyword research and metadata creation
This phase may happen in conjunction with the creation of your sitemap, as your digital strategists will research keywords that will be used as the cornerstone of your SEO efforts. Your SEO team will determine the direction of your content creation based on these keywords, so that your new website will be able to rank in Google search for relevant search queries from your prospective customers. As part of this process, your digital strategists will write unique meta titles and descriptions for every page of your website, which is important for your bank website's SEO. These can then be passed along to the development team for implementation as they continue to build out the website. Doing so also stresses the importance of having the ability to customize your metadata through your new CMS.
Working through your content needs
Once your sitemap has been developed, keywords have been researched, and designs have been approved, your development and marketing teams will begin to work independently for a time on their respective duties. The developers will focus on building out a functioning website from a technical standpoint while your marketing strategists will begin the process of creating your content. If your strategists took the time to build a comprehensive sitemap, then all of your content creation efforts will align perfectly with the pages that are being built by the dev team, meaning that there will be no gaps in your website content.
It is important to outline all content sections on each page, which might include several elements: An introductory paragraph, product details, headings and sub-headings, primary and secondary calls-to-action, customer testimonials, related blogs, etc.
While many development teams may suggest that your new website have a minimalistic approach to your number of pages, your strategists are more likely to recommend a comprehensive approach in which your products and services will have individual pages. There are a multitude of reasons for this:
This increases the amount of unique product-focused content on your site that will help your SEO efforts. Having individual pages that describe your products in detail will be far more effective than consolidated product pages that will have several competing keywords cannibalizing each other.
These pages can act as highly focused landing pages for your digital and conventional ads. Your digital ads will be more likely to have a higher quality score if they are pointing toward these focused landing pages, which will allow your ad accounts to run more efficiently.
When it comes to tracking the conversion points on your website, individual pages will make the tagging and tracking process simpler and more accurate.
In addition to the all-important product page content, your digital strategists should begin the process of building out secondary pages, such as team member biographies, location pages, the bank's history page, etc. This is also a good time to begin considering your future ongoing content creation needs, which may take the form of a blog or educational resources section. If you plan to launch your new website with a blog section that you did not previously have, you may want to load it up with a few initial articles so that you are not directing users to an empty blog archive.
Conversion optimization and tagging
Once your product pages have been completed, your metadata has been implemented, and your keyword-rich content has been placed on every page, it's time for the marketing team to dig into every product page to begin the conversion optimization process. While some pages might have obvious goals, such as an online application on a mortgage page or an account opening portal link on a checking page, other pages will require additional consideration to determine goals that will help measure the success of related marketing campaigns.
While many people will be apt to click on an online application, others may not be at the same stage of the buyers' journey. In this case, strategists may want to suggest that phone numbers, requests to book an appointment, contact forms, email addresses, or other conversion points be added to these pages in order to cater to everyone that might visit the page, regardless of their position in the buyers' journey.
These conversion points can be mapped out as part of the sitemap creation process, but they will be implemented during this stage. It is the development team's job to ensure that every goal is consistent and functions as it is intended to. It will also be their responsibility to implement any third-party conversion tools, such as chat bots, scheduling tools, and the like.
The marketing team should, at this point, create a tracking code for tools like Google Analytics and Google Tag Manager, if these were not already in use on the original website. These tracking codes then need to be installed by the development team so that the digital strategists can test every goal on the website to ensure that the tracking has been configured correctly.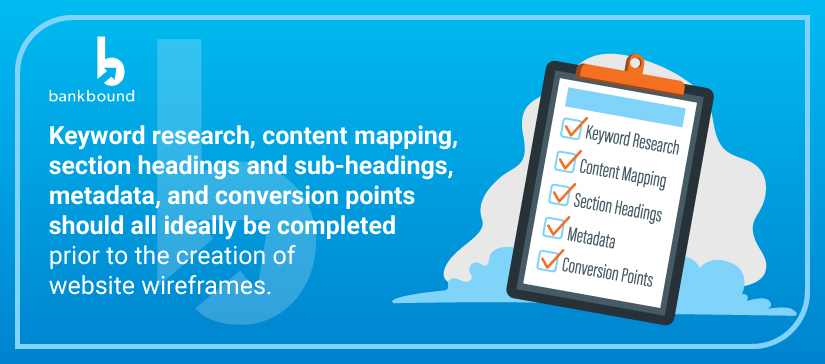 Site launch considerations
As the site launch draws near, there are a multitude of marketing tasks that must be completed to mitigate potential negative side-effects to your existing SEO or digital advertising efforts. This includes:
Breadcrumbs: Allows visitors to understand website structure and easily navigate to other pages within the site's page hierarchy.
Broken Links: Crawling the site allows strategists to find any broken links that may cause issues in your SEO strategy and make the site easier for your visitors to navigate.
404 Page: Ensure that your developers have created a dedicated 404 page that will be used in the event of a broken link. This page should be optimized to help the user navigate to the homepage easily.
301 Redirects: If your new website lacks corresponding pages that were on your old website, ensure that 301s are setup to point users from the old, missing URLs to a new one on your new site.
Site Indexing: Your site is probably marked as no-index during development so that users cannot find your site through the Google search results before it is complete. Ensure that this is turned on prior to launch, so that you can reap your hard-earned SEO value with your new site.
HTML & XML Sitemaps: These two pages will allow both users and the search engine bots to easily crawl your website to understand its structure. Both of these tools will also be important for setting up Google Search Console and Bing Webmaster Tools.
Partner with digital strategists with bank website design experience
If you're planning to redesign your bank or credit union website, it's important to partner with a digital marketing agency that has experience working alongside a website development team. Your marketing strategists can be essential allies who will help guide you through the process of designing and developing a website that will yield positive results from your marketing efforts. Strategists can often bridge the gap between the needs of your bank and the technological expertise of your developers, making the process smoother, more effective, and less overwhelming. Contact BankBound for support during your website redesign process; speak with a digital strategist to get a digital marketing analysis of your financial institution today!